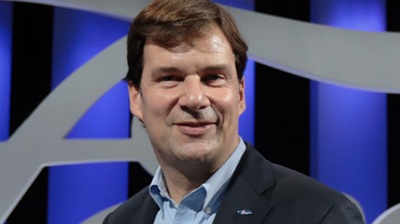 Ford has revealed senior management changes in a bid to accelerate its transformation into a mobility services company.
Jim Farley has been named chief operating officer, reporting to Jim Hackett, the company's president and chief executive officer, while Joe Hinrichs is retiring as president of Ford's automotive division.
The changes come as Ford is "moving with urgency" to accelerate its transformation into a mobility services company to deliver improved margins, following a fall in revenues and profits during 2019.
Ford reported total revenues of $155.9 billion in 2019, down nearly 3% on 2018.
Automotive revenue fell 3% to $143.6 billion, but this was offset by continued growth at its finance arm Ford Credit, where revenues grew 2% to $12.3 billion.
Revenues at Ford's fledgling mobility arm leapt from $26 million to $41 million, but its costs last year were nearly $1.4 billion as the business invested heavily in new technology, generating net losses of $902 million.
By contrast, Ford's automotive arm had net income of just over $4.4 billion (with profits coming entirely from North America, subsidising losses in all other automotive markets).
However, Ford incurred nearly $6 billion of additional costs last year, including special items.
Only healthy profits from Ford Credit, delivering just over $2.2 billion in net income, meant Ford avoided a full-year loss, as it posted total net income of $84 million in 2019, down from $3.7 billion in 2018.
Hackett said: "Financially, the company's 2019 performance was short of our original expectations, mostly because our operational execution – which we usually do very well – wasn't nearly good enough. We recognize, take accountability for and have made changes because of this.
"We made great strategic progress this past year with a fundamental redesign of Ford that is setting us up to compete and win in this emerging era of smart vehicles for a smart world."
Hackett added: "Jim Farley is the right person to take on this important new role. Jim's passion for great vehicles and his intense drive for results are well known. He also has developed into a transformational leader with the imagination and foresight to help lead Ford into the future."
Farley, 57, joined Ford in 2007 as global head of marketing and sales and went on to lead Lincoln, Ford South America, Ford of Europe and all Ford global markets in successive roles.
Since April, Farley has led Ford's new businesses, technology and strategy team, helping the company determine how to capitalize on the powerful forces reshaping the industry – such as software platforms, connectivity, AI, automation and new forms of propulsion.
Farley will lead Ford's drive to strengthen its automotive operations and deliver bigger global profit margins.
He will oversee all of Ford's global markets and automotive operations, including product development, marketing and new model launches.
Ford carried out key parts of an ambitious vehicle renewal programme last year. By the end of 2019, 40% of Ford's global product portfolio was new since the end of 2017, a rate expected to reach 90% by 2022.
Among products introduced in 2019 were new versions of the Ford Explorer, Escape and Super Duty, Lincoln Aviator and Corsair, in North America; Ford Puma and two-tonne Transit in Europe; and its first-ever battery-electric vehicle in China, a version of the Ford Territory. Production of all these vehicles will fully ramp up during 2020.
In addition to Mustang Mach-E, refreshed or all-new vehicle launches planned for 2020 include:
F-150, featuring a first-ever hybrid-electric version
A small off-road utility vehicle
The first of 30 market-specific Ford and Lincoln vehicles in China – 10 of which will be electric – over the next three years
Electrified versions of the Lincoln Corsair and Ford Escape/Kuga.