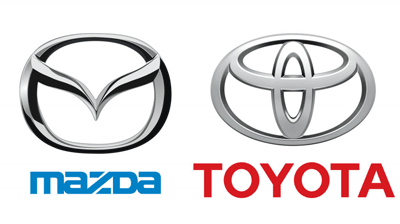 News that Toyota Motor and Mazda Motor are in the final phase of talks on integrating their auto sales financing businesses has hardly come as a surprise to the industry.
The auto financing tie-up will allow Toyota to expand its business, while Mazda will be able to keep its cost of raising capital low under a Toyota group company.
The two manufacturers are reportedly working to reach an agreement by the end of the year. Toyota's financing business, Toyota Finance, is forecast to obtain a total 51% stake in Mazda's sales financing unit SMM Auto Finance, which is owned by Sumitomo Mitsui Banking Corp. and Cedyna, Sumitomo Mitsui's credit card company.
While new car sales in Japan have recently shrunk to two-thirds of their peak, interest rates in the US remain on an upward trend. The two Japanese automakers will work together to deal with this situation by bolstering their business foundations and increasing their competitiveness in auto loans and other areas.
Toyota and Mazda originally formed a capital and business tie-up in 2017, and have since then begun to cooperate on building plants in the US and developing technology for electric cars.
Indeed, the two companies' newly-announced auto finance partnership deepens an existing relationship and includes electric vehicle development and a new production facility in the US.
Passionate about cars
Toyota continues to be huge and globally successful. It has invested a 5% stake in Mazda while still competing directly in a range of vehicle categories.
The Toyota Chairman had this to say about the deal: "This is a partnership in which those who are passionate about cars will work together to make ever-better cars. It is also the realization of our desire to never let cars become commodities."
The entire Mazda line-up, from its modern-icon Miata up to the three-row CX-9 family SUV lives up to its "Driving Matters" tagline. Toyota, on the other hand, has long been criticized for making the ultimate in commoditized cars already.
Courting the competition
Toyota has been buying into its smaller competitors lately. Subaru, Suzuki, and now Mazda have all been courted.
Some industry observers believe it is a technique to get access to other centers of excellence: Mazda makes cars with soul and efficiency, Subaru knows all-wheel drive and affordable safety, and the companies share the FT-86 platform sports car. These partnerships give Toyota resources to turn to when it needs them.
It's also a soft consolidation of the industry by Toyota to protect itself.
Toyota can afford to share some its car business, and even benefit from its investments at the same time. What would be potentially disastrous, and much more costly, would be for a similarly-large rival to buy into these smaller competitors, instead. Or worse, one of the countless fintech companies, awash with private capital, making noises about getting into the car business.
For the future
The partnership announcement suggests that Toyota and Mazda will be working together on electric vehicles, in-car electronics, and advanced safety. At the same time, Mazda remains firmly committed to developing internal combustion powertrains and doesn't appear eager to over-extend itself on battery-electric or hybrid systems, though there is some work going on with that technology.
In the immediate aftermath of this announcement, Mazda would appear to have come off as the bigger winner. In the long term, however, even if all Toyota manages to do is protect some of its territory, it will have been worth it.