Cadillac has announced it will "temporarily pause" its car subscription service in the US next month as part of a strategic review.
The manufacturer says it will review results from the programme before developing a new strategy.
Book by Cadillac is one of several subscription services recently launched by manufacturers to offer new mobility options to customers. For a monthly fee, drivers can swap between a range of Cadillac vehicles as their needs change.
The service expanded at the end of last year from New York City to Dallas and Los Angeles after the manufacturer reported "overwhelming demand for enrolment" in the New York metro area.
Industry reports suggest the key challenge related to the complexities and cost of fleet management and technological issues.
A Cadillac spokesman said: "Book by Cadillac launched as a pilot program, providing the brand with valuable insights and contributing to Cadillac's ongoing commitment to identifying new and innovative luxury experiences for customers.
"The brand will use these insights to make adjustments to the Book by Cadillac strategy moving forward."
Future mobility growth
Several other manufacturers have launched subscription services, ranging from Porsche to Mercedes-Benz and Ford, with each adopting a slightly different business model, but with a common aim of remaining engaged with customers who want to shift away from car ownership towards a pay-on-use model.
This has also prompted investment in a wider range of mobility services among brands, including the rapidly expanding on-demand car-sharing sector.
Daimler Financial Services recently reported that its mobility services arm had reached 26 million users for the first time, following 64% growth in demand in the first nine months of the year.
There were more than 126 million transactions with its services including car2go, moovel and the ride-hailing group including mytaxi, Beat, Clever Taxi and Chauffeur Privé across 130 cities.
In response to its changing focus, Klaus Entenmann, CEO Daimler Financial Services, said it would become Daimler Mobility from next year.
He said: "This new name gives expression to our strategic expansion of the business segments. 26 million customers along with strong double-digit growth in this future market of mobility are driving our investments."
Scale and efficiency are critical to the success of mobility services so, despite its success, Daimler has announced its intention to merge its on-demand mobility services with BMW Group, covering car sharing, ride hailing, parking, electric vehicle charging and mobility-as-a-service platforms, to enable accelerated expansion in the future.
Daimler Financial Services has also announced an additional joint venture with Chinese manufacturer Geely, launching next year, to offer a premium ride-hailing platform.
The new company will be a 50:50 cooperation between Geely Group Company and Daimler Mobility Services and will be based in Hangzhou, China.
The joint venture for premium ride-hailing in China won't be part of the planned mobility joint venture with BMW. Daimler and BMW will each hold 50% of the shares in their planned joint venture.
Entenmann added: "The ride-hailing joint venture will help us to expand our mobility services worldwide while further strengthening Daimler's profile in China. By cooperating with Geely Group Company, we now have the opportunity to enter the Chinese ride-hailing market, which is one of the fastest-growing markets in China."
The premium ride-hailing service is planned to launch initially in four selected Chinese cities starting in 2019. Initially, the Mercedes-Benz S-Class, E-Class and V-Class as well as Maybach will be used. Additionally, premium electric vehicles from the Geely Group will also be available.
Jörg Lamparter, Daimler's head of mobility services, said: "The joint venture with the Geely Group Company opens up promising perspectives for the Chinese market. We look forward to a successful cooperation with the Geely Group Company and the expansion of our activities in China beyond car2go and Car2Share."
Expansion in mobility services is also taking place at BMW, with its DriveNow car-sharing service expanding in the UK to five new London boroughs, making it the largest operating city for the brand.
The expansion will see an additional 410 BMW and MINI vehicles available throughout the capital across an area of almost 200 square kilometres, across nine boroughs, creating a total fleet of 720 BMWs and MINIs, with an additional ambition for the fleet to be 80% all-electric by 2025.
James Taylor, managing director for DriveNow UK, said: "We hope that car sharing, alongside other sustainable transport options such as walking, cycling and public transport, will continue to be embraced by Londoners to help reduce congestion and pollution and build a more liveable city."
Globally, DriveNow has more than 1 million users and a fleet of 6,000 vehicles across Munich, Berlin, Dusseldorf, Cologne, Hamburg, Vienna, London, Copenhagen, Brussels, Milan, Helsinki and Lisbon.
Users can drive by the minute or book an hourly or daily package with everything included, from insurance and fuel to parking and road tax.
Alternative shared transport options
The expansion comes as alternative shared transport services also invest in growth.
Electric scooter rental start-up Bird has been targeting rapid global expansion after securing $300 million to grow outside its home base in the US.
It has launched a recruitment drive ranging from Latin America to Europe and most recently launched in London.
Founded in 2017 by Travis VanderZanden, formerly of Uber and Lyft, the California business operates dockless electric scooters that cost as little as $1 to rent.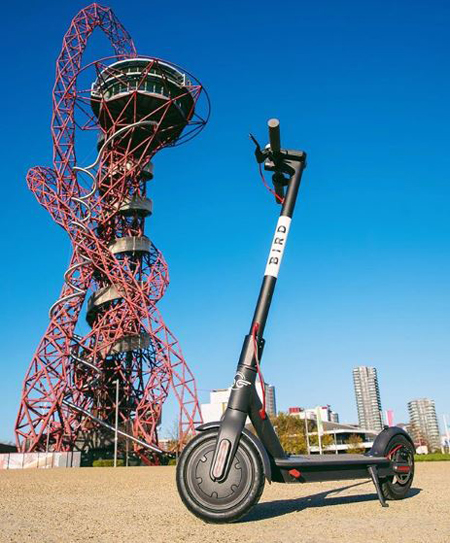 Bird's chief rival, Lime, has also been raising funds for international expansion and is targeting 150 markets by the end of this year.
However, dockless bike and scooter services have attracted controversy because of vandalism, safety concerns and clashes with city regulators, particularly because of concerns about thousands of bikes and scooters being left on the streets.
Bird faced a ban in San Francisco, while Mobike recently pulled out of Manchester, UK, after warning that the level of vandalism and theft it encountered prevented the service from operating profitably in the city.