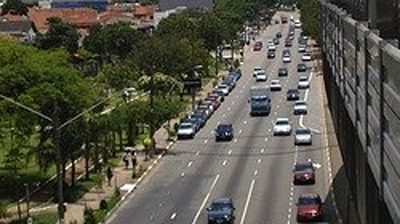 Brazil has become the latest country to propose a ban on the sale of petrol and diesel cars, with a suggested date of 2030.
The country's Comissão de Constituição e Justiça (Constitution and Justice Commission – CCJ) approved the bill, which is to be voted on by the country's Comissão de Meio Ambiente (Environment Commission).
It states that vehicles powered by biofuels – such as ethanol, which is popular in Brazil – would be exempt from any future bans.
The bill adds that the "circulation" of petrol and diesel vehicles could also be prohibited from 2040, but there would be exceptions for classic/collectible cars, official and diplomatic vehicles and those belonging to foreign visitors.
It follows the UK's announcement of its plan to introduce a similar ban in 2035, with officials later suggesting the date could be moved forward to 2032. A further 13 countries, including China, France, Ireland and Sweden have proposed similar initiatives, with proposed implementations ranging from 2025 to 2050. None have been formally approved.
The author of the Brazilian bill, Senator Ciro Nogueira, made reference to the proposals in other countries and claimed that petrol and diesel vehicles were responsible for a sixth of global CO2 emissions.
Brazil has seen a recent increase in electric and hybrid vehicle sales. In January, local motor industry body ANFAVEA reported a 320% rise in registrations in 2019, but from a low based to 1,600 vehicles. Total sales accounted for 1% of the market.
The organisation also warned of a "decade full of obstacles" as it published a study outlining the evolution of the Brazilian automotive industry during the past 10 years and its predictions for the future.
"The years following 2010 were an unprecedented test of the resilience of the national automotive industry, and the decade of 2020 gives all signs that it will be the most disruptive in the history of our sector," said ANFAVEA president, Luiz Carlos Moraes.
The organisation pointed to falls in sales and production since 2015, in the wake of the country's recession, but claimed that, despite the downturn, there had still been a strong level of investment from the automotive sector.
Moraes said: "It is worth mentioning that we absorbed the drop in production, trying to preserve jobs in our factories as much as possible. The reduction in vacancies in our sector was much smaller than the fall in the market."
He added that a reduction in direct sales to consumers and businesses, along with increasing requirements for new and different payment formats and mobility services, particularly in the fleet sector, had forced manufacturers and service providers to adapt.
"Several companies outsource their fleets, many application drivers use rental cars, so this sales channel becomes essential for the automotive sector," he added.
"There is a lot of room to improve forms of vehicle financing, increase competitiveness, expand exports and to explore the creative potential of the industry installed in the country. Only then will we grow in a consistent, sustainable manner, generating quality jobs and surfing the new trends in connected mobility."