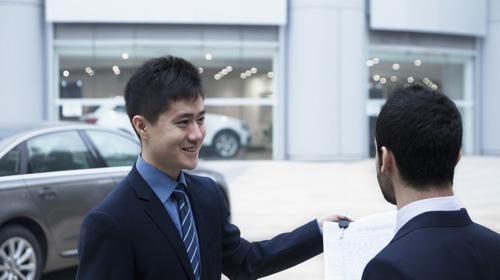 By 2020, the Chinese market may have half of its new car deals funded by loans, which would represent an increase of more than 40% from last year.
Deloitte Consulting China's Auto Finance Report predicts that the penetration rate of auto financing may reach 50% after five years of rapid growth in China.
Car finance is, of course, commonplace in developed countries, as the world's average penetration rate reached 70% in 2014, according to Roland Berber Greater China. That means about 63 million units, 70% of the world's new car sales, were funded by loans.
In contrast to such wide acceptance in mature markets, auto loans supported only 8.6 million units or 35% of new car sales in China this year. The penetration rate was 81% in the US, while Germany registered 64%.
The report revealed that carmakers' finance arms are granting about half of all car loans and projected that proportion will remain constant in the near future.
Many Chinese auto manufacturers have begun providing car loans to attract more customers by better satisfying their demands.
Good financing services
Wu Congjian, partner of the Automotive Practice at Deloitte Consulting China said: "A carmaker may find offering auto loans help to keep customers. If potential customers fail to find adequate financing services with their dealers, they will turn to someone else who has what they need.
"Usually, the customers first decide to buy, and then they will look for good financing services to help them out of any financial pressures. As long as the customers do the maths, they will find loans to help them save money, even make more money."
When a car is not paid for beyond the deposit, the remaining cash can make money in other businesses or be put into wealth management projects. The most popular loans are balloon products charging no interest, while the most common wealth management contracts attract several percentage points of an annualized rate of return.
Peng Cheng, associate director of Automotive Practice at Deloitte Consulting China, has seen the financing business help carmakers improve profits.
"It might be hard for a carmaker to define the part of sales volume generated by loans, but it's easy to observe many customers realizing their wishes to own a car or upgrade their purchase to the next level thanks to the loans," said Peng. "Paying only a portion of the sticker price certainly eases the buyer's financial pressure."
"It's easy to convince them to decide to buy a better, more expensive model, as it adds only a small amount to the down payment and makes a subtle change to the monthly payment."
Besides, loan services help younger people make their purchases earlier than they might otherwise do if they were paying in full. Peng said this is why auto financing is more acceptable among Chinese born after 1980.
Jia Xinguang, a senior analyst with China Automobile Dealers Association, expects a higher penetration rate if financing companies and government bodies offer support.
"More Chinese people will accept the concept of car finance, if companies give further guarantees in the future," he said. "The customers' major concerns are the high expense of the service of car finance and the low buyback price of cars. Car financing companies need to reassure customers that there won't be any hidden costs.
"The country should see the differences between car loans and other types of loans. The car finance business deserves further policy encouragement."
A supportive guideline was issued in March encouraging car finance companies to issue bonds for raising capital and to offer loans to fund additional auto products, including charging poles and insurance.
Volkswagen Finance (China) Co issued its first renminbi bond in May, and raised about CHY9.5 billion ($1.4 billion) through asset-backed securities transactions by November through a total of four issues.