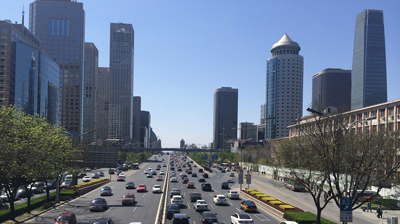 As China's megacities continue to swell in size, there is booming demand for vehicles within a growing middle class that needs access to transportation.
China already leads global vehicle demand, ahead of the US and EU, according to the latest data from ACEA, the European Automobile Manufacturers' Association.
However, according to J.D. Power's 2018 China Consumer Auto Financing Sales Satisfaction Study, car finance is still an underdeveloped, but emerging, business in China.
Compared with a penetration of more than 80% in the US and the UK, the study finds that auto financing has less than 30% penetration in China.
Among those consumers in China who used auto financing to buy a car, 38% say they would have postponed their purchase if auto financing services had not been available. Another 10% indicate they would have abandoned their purchase plans.
The survey shows that attractive financing programmes have become the key driver for brand loyalty and repurchase, with 30% of customers purchasing the same brand as a result.
Jacob George, vice-president and general manager at J.D. Power Asia Pacific, said: "Even though auto finance's penetration in China is lower than that in the US and other developed markets, it is playing an increasingly critical role in driving Chinese consumers' vehicle purchase decisions.
"The landscape is evolving fast. For OEMs and dealers, the improvement in auto financing services and more experience can help them differentiate in a highly competitive market."
China's automotive leasing market holds massive potential, as currently out of a substantial market of nearly 29 million new vehicles, traditional contract hire has just 0.1% market share.
In its underdeveloped auto finance environment, leasing has only started to emerge as an option for auto consumers in the past few years, according to KPMG China.
However, there are considerable challenges on the way. Due to leasing's lack of market share, there is the challenge of making customers aware in the first place.
In addition, China lacks a robust route for leasing companies to dispose of stock in a profitable way.
The used car market, as the most commonly used remarketing channel, is currently viewed as fragmented, regional and non-transparent in China. Used car sales are often handled by individual dealers and take place in offline markets with one-on-one negotiation. This is clearly not an optimal way for leasing companies to dispose of their large volume of vehicles.
Furthermore, the underdeveloped used car market also results in higher volatility in residual values, which makes setting leasing rates a challenge.
However, KPMG China is confident leasing will take off, forecasting it will account for 20% of car sales by 2026, accelerating from close to nothing to millions of vehicles in less than 10 years.
Gary Cai, KPMG Advisory (China) associate director, said: "In the next decade, a significant portion of car buyers will be millennials, who are typically considered to be open to new concepts and westernised consumption behaviours.
"Concurrently, the used car market is evolving into a more transparent and regulated market under government decree. As such, increasingly advanced residual value forecasting based upon more transparent data becomes possible."
China is served by a mix of leasing companies backed by car manufacturers, dealer groups and independent companies.
The largest in China is All Trust Leasing, which is owned by dealer group China Grand Auto.
According to KPMG's analysis of the Chinese leasing market in 2018, online specialist Yixin Capital is the second largest, followed by independent Herald Pacific Financial Leasing, SAIC-owned Anji Leasing and then Ping An Leasing.
Volkswagen, Mercedes-Benz, Toyota and BMW have all entered into joint-ventures in China's automotive leasing market but are still fledgling operations that are leasing a few thousand vehicles a year.
Alphabet, BMW's leasing division, acquired Herald International Financial Leasing Company, an existing Chinese leasing operation, in November 2015. Its focus has been on offering leasing services to European and Australian fleet customers with local operations in China, but it is increasingly promoting the idea of company car leasing to Chinese businesses in the 58 cities where Herald already has a presence.
The potential for growth coincides with booming demand for electric vehicles in China.
Data from China's Association of Automobile Manufacturers (CAAM) shows that plug-in vehicles generated sales of 777,000 units in 2017, a 53.3% increase year-on-year.
China has set out its "Technology Roadmap for Energy-Saving and New Energy Vehicles" and this includes plug-in models accounting for 12% of all vehicle sales by 2020, equivalent to 3.5 million vehicles.
* This article was taken from a special Bynx Report on China. Read more here.