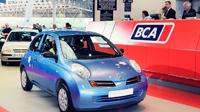 BCA Partner Finance has reported record demand in 2017 with funding provided for more than 100,000 vehicles.
The business finance arm of remarketing giant BCA has grown rapidly and now supports 1,200 customers with finance facilities for used vehicle stocking.
Strong demand during the year has been driven by investment in a national network of sales and customer service teams.
BCA Partner Finance offers both franchised and independent dealers of all sizes 120 days funding on vehicles purchased at BCA auction centres.
The service funds the whole auction purchase, including fees and VAT where applicable. Both cars and LCVs are eligible for funding using the scheme.
Malcolm Thompson, managing director of BCA Partner Finance, said: "Our continued investment in innovation has seen our service offering grow rapidly. To make stocking decisions easier, customers can now appraise part exchanges through the Dealer Pro application and determine whether they want to retain and fund vehicles for retail stock or remarket them."