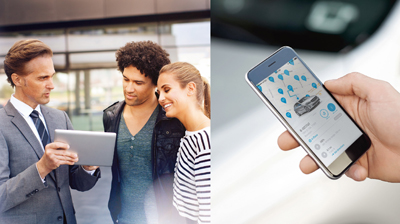 Daimler Financial Services AG it to rebrand as Daimler Mobility AG next year as it pushes ahead "full speed" to be a leading provider of mobility as a service products.
The change is expected to go through in the first half of 2019 and according to Bodo Uebber, member of the board of management of Daimler AG responsible for Finance & Controlling and Daimler Financial Services, the rebrand "makes a strong statement with respect to the future of mobility".
Uebber confirmed that: "Financial services will remain a fundamental element of the division."
Daimler Financial Services has 13,000 employees and already represents the group's mobility portfolio with services such as car2go (which is now a joint venture with BMW's DriveNow service), moovel and mytaxi/Intelligent apps.
The company is also involved in digital mobility services such as Flixbus, Taxify, Turo and Via.
While Daimler's overall earnings before interest and tax (EBIT) fell 30% to €2.64 billion euros in Q2 this year as a result of Chinese price-cutting on U.S.-made Mercedes models to offset import duties, its leasing and financing contracts increased by 2% at the half year point to a total volume of €18.3 billion.
Daimler Financial Services' portfolio included more than five million vehicles at the end of June; this is equivalent to a contract volume of €146.7 billion and growth of 5% compared with the end of 2017.
Klaus Entenmann, chairman of the Board of Management of Daimler Financial Services, said: "We are pushing forward the transformation towards becoming a mobility provider at full speed.
"It is expected that the revenue in this market will reach a significant three-digit billion dollar volume in the next decade and beyond. Daimler will play a crucial role in this regard."
The changes with the finance division come alongside other changes that will see two other new legally independent entities created called Mercedes-Benz AG (cars and vans) and Daimler Truck AG.
Daimler said the new structure would help give "greater entrepreneurial freedom for divisions, even stronger market and customer focus, as well as faster and more flexible partnerships".
The new structure involves re-assigning more than 700 subsidiaries in over 60 countries.
Manfred Bischoff, chairman of the supervisory board of Daimler AG, said: "The new structure positions Daimler to tackle the rapid pace of change in the mobility sector and the corresponding strategic challenges.
"Legally independent divisions will sharpen our focus on the future success of the business."