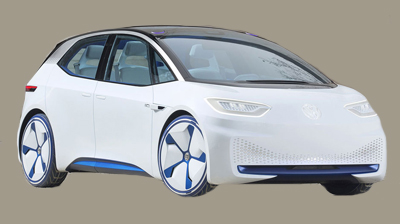 Volkswagen has revealed radical plans that will mark the end of the fossil fuel era, as it focuses solely on developing electric vehicles with the next decade.
As part of a €11 billion development programme, Volkswagen will spend €9 billion on its electrification offensive.
Other funds will be spent on digitalization, introducing autonomous driving capabilities and expanding its mobility services.
The planned development programme will run from 2019 to 2023, financed through efficiencies elsewhere in the business, ranging from increased productivity at plants to improvements in administration.
The brand currently has two fully-electric cars in its program, but this will increase to around 20 by 2025, with planned production set to rise to one million units.
Already its plant in Zwickau, Germany, is being developed to run exclusively as an electric mobility site and home of the new fully-electric ID.1, while two other plants in the country, Emden and Hanover, will switch to the production of electric vehicles from 2022.
Collectively, these three sites will become Europe's largest e-production network.
Two electric vehicle plants are also under construction in China, with production scheduled to commence in 2020.
For North America, Volkswagen is finalising a production location for electric vehicles in the coming months.
Volkswagen will also be investing heavily in digitalisation.
The Volkswagen Automotive Cloud, developed together with partners, lays the groundwork for offering a growing range of digital services in fully-connected vehicles.
The manufacturer's aim is to create the world's largest automotive ecosystem.
The strategic changes will mark the end of the fossil-fuel era for Volkswagen cars, with Reuters reporting that it will start production of its last combustion engine platform in 2026 amid a global shift to electric vehicles.
In subsequent years, Volkswagen will only adapt its petrol and diesel-engined range to meet increasingly stringent environmental standards during their production lifetime.
The Volkswagen passenger cars brand is present in more than 150 markets throughout the world and produces vehicles at 50 locations in 14 countries.
Last year, it delivered 6.23 million vehicles including iconic models such as the Golf and Jetta, along with the Tiguan and Passat.
Currently, 198,000 people work for Volkswagen across the globe, with distribution through 7,700 dealerships.
The announcement comes as most global manufacturers gear up for mass production of zero-emission vehicles, spurred on by legislation being introduced by national and local governments.
As part of its plans to ramp up production of electric vehicles, Daimler, parent company of Mercedes-Benz, recently announced it was planning to invest €20 billion by 2030 in sourcing batteries for mass production.
Wilko Stark, who oversees procurement and supplier quality on the board of Mercedes-Benz Cars, said: "With extensive orders for battery cells until the year 2030, we set another important milestone for the electrification of our future electric vehicles."
Daimler is building a global network of battery assembly plants in Kamenz, Untertuerkheim and Sindelfingen in Germany, as well as in Beijing, Bangkok, and Tuscaloosa, United States.
The first in a range of Mercedes-Benz EQ electric cars, the EQC SUV, is set for a 2019 launch.