There is a strong desire for car ownership, especially amongst the young, despite the growth of alternative mobility services, according to a new global report.
The study of more than 8,000 people in 13 countries, carried out by consultants Arthur D. Little, also reveals that drivers are considering a dramatic switch to electric and hybrid vehicles (EVs) over the next replacement cycle.
The study found that half of respondents agreed owning a car was important, a similar proportion to a study in 2015, with top reasons including independence, comfort and convenience for unplanned journeys, as well as reduced time spent commuting.
Importance of car ownership (Germany)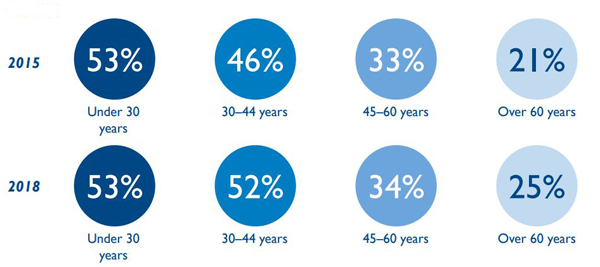 Proportion answering "fairly important", "important" or "very important"
Source: Arthur D. Little
However, perception of what ownership means can be difficult to define, as often customers consider leasing as 'ownership', even though they don't own the vehicle. It is likely that when referring to ownership, drivers mean exclusive access to a vehicle, typically over the long-term.
Despite the focus on ownership, a significant number of respondents said they were part of a car-sharing scheme.
Overall, a quarter of respondents said they were members of a car-sharing service, rising to one-third among under-30s.
Price remains the most important factor in choosing a car-sharing scheme, followed by flexibility in being able to pick up cars and drop them off – a model used by free-floating car-sharing schemes such as Car2Go.
The research revealed that people are less open to peer-to-peer sharing of private cars overall, although major markets saw some growth, such as China and the US.
The study also found that drivers are now much more willing to embrace alternative drivetrains, with 58% saying they would accept paying more for hybrids, and 50% for EVs.
While the majority have petrol or diesel-engined vehicles, this could change rapidly. Of those planning to replace their car, 48% said they would consider a zero-emission capable vehicle (electric, hybrid or plugin hybrid), compared to 36% a petrol-engined vehicle and 12% diesel.
Replacement trend
Current and expected drivetrain, respondents intending to replace car within 1 yr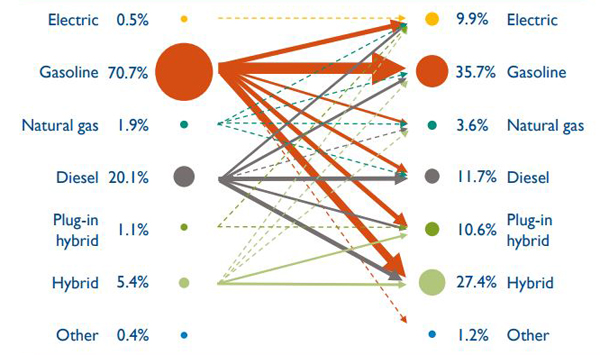 Source: Arthur D. Little
Klaus Schmitz, partner with Arthur D. Little, said: "Extending our ground-breaking 2015 automotive study shows enormous changes. While attachment to car ownership remains high, meaning the overall automotive market will remain stable, the switch to alternative drivetrains and new mobility options will disrupt manufacturers, with EV driver demand exceeding currently planned capabilities and ecosystem readiness."
The study also found recent negative publicity has weakened trust in autonomous vehicles - 57% of drivers would use full AVs, down from 64%.
If used, 44% said autonomous vehicles would replace private cars for short, urban trips, while 29% said it would replace public transport, which could affect city mobility strategies.
Arthur D. Little also found that personal data concerns within autonomous and connected driving are rising.
Wolf-Dieter Hoppe, partner with Arthur D. Little, said: "Drivers in all countries we surveyed, except China, are becoming much more sensitive around private data. In the long run, protecting this data will become a key competitive differentiator for manufacturers and providers of mobility solutions."