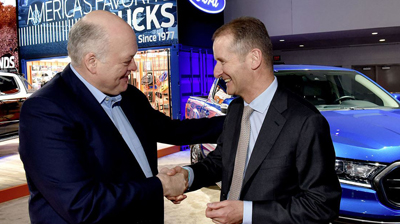 Ford and Volkswagen have announced a broad vehicle alliance to develop commercial vehicles and pickups for global markets.
The alliance is designed to provide scale and efficiencies through shared vehicle platforms, starting in 2022.
The collaboration could extend to electric and autonomous vehicles and also mobility services, reflecting BMW and Daimler's merger of their mobility divisions last year.
However, the manufacturers said core businesses would remain separate, including their finance divisions. The alliance will be governed by a separate board.
Ford CEO Jim Hackett said: "Over time, this alliance will help both companies create value and meet the needs of our customers and society.
"It will not only drive significant efficiencies and help both companies improve their fitness, but also gives us the opportunity to collaborate on shaping the next era of mobility."
Volkswagen CEO Dr. Herbert Diess added: "Volkswagen and Ford will harness our collective resources, innovation capabilities and complementary market positions to even better serve millions of customers around the world. At the same time, the alliance will be a cornerstone for our drive to improve competitiveness."
Ford and Volkswagen both have strong commercial van and pickup businesses around the globe, with market-leading models including the Ford Transit and Volkswagen Transporter.
The companies' combined light commercial vehicle volumes from 2018 were around 1.2 million units globally, which could represent the industry's highest-volume collaboration as production scales.
The executives said demand for both medium pickups and commercial vans is expected to grow globally in the next five years, so the alliance will allow the manufacturers to share development costs and leverage their respective manufacturing capacity.
Under the alliance, Ford will engineer and build medium-sized pickups for both companies which are expected to go to market as early as 2022.
For both parties, Ford intends to engineer and build larger commercial vans for European customers, and Volkswagen intends to develop and build a city van.
Pictured: Volkswagen CEO Dr. Herbert Diess (right) and Ford CEO Jim Hackett.