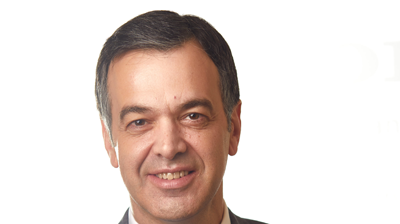 Due to the global attempt to halt the spread of the virus, and the measures implemented in many countries earlier this year, the vast majority of manufacturing firms have struggled.
The initial slowdown in China in February, and the further developments, had a "particularly severe impact on Volvo Group as of mid-March," claimed president and chief executive officer of the Group, Martin Lundstedt, adding that "the global supply chain was disrupted and production halted in most parts of our operations."
Overall, the reduced production and lower demand had a markedly negative impact on the Group's sales and profits in Q1 this year, with net sales decreasing by 16% to £7.78 billion and its adjusted operating income amounting to £600 million with a margin of 7.8%.
Lundstedt added: "We maintain a strong financial position with net cash of £4.92 billion in the industrial operations, pension and lease liabilities excluded."
Adjusted operating income SEK M
Q1 2020
Q1 2019

% Change

Trucks

3,948
8,293
-52
Construction Equipment
2,678
3,646
-27
Buses
-129
294
-144
Volvo Pentra
509
684
-26
Group Functions & Other
-469
-804
42
Eliminations
-2
-18
89
Industrial Operations
6,534
12,095
-46
Financial Services
605
602
0
Reclassifications and eliminations
1
Volvo Group adjusted operating income
7,140
12,696
-44
Adjustments
234
1,466
-84
Volvo Group operating income
7,374
14,162
-48
Looking specifically at Volvo Financial Services (VFS), it saw new business volume up by 8% in Q1 2020 due to higher penetration levels, and an operating income of £51.60 million compared to the £51.35 million in the year before.
Furthermore, VFS' credit portfolio grew by 8% on a year-over-year basis, although compared with the same period the year before, this positive impact was offset by increased credit provision expenses.
However, the company claimed that its portfolio performance deteriorated towards the end of the quarter as the effects of the pandemic began taking hold. This resulted in lower business activity, and a drop in customers' ability to make their payments. Therefore, a vastly increased number of customers have been requesting contract modifications and delinquencies are on the rise.
| Financial Services SEK M | Q1 2020 | Q1 2019 |
| --- | --- | --- |
| Number of financed units, 12 months rolling | 63,089 | 59,149 |
| Total penetration rate, 12 months rolling, % ¹ | 26 | 24 |
| New retail financing volume, SEK billion | 17.5 | 15.9 |
| Credit portfolio net, SEK billion | 175 | 157 |
| Credit provision expenses | 329 | 156 |
| Operating income | 605 | 602 |
| Credit reserves, % of credit portfolio | 1.56 | 1.60 |
| Return on equity, % | 14.7 | 14.6 |
¹ Share of unit sales financed by VFS in relation to the total number of units sold by the Volvo Group in markets where financial services are offered.
Senior appointment
Earlier this year, Volvo Group announced the appointment of Marcio Pedroso as a member of Volvo Group Management and president of Volvo Financial Services.
Pedroso first joined the Volvo Group in 2001, prior to which he held various leadership positions in the insurance and corporate finance industries. He began working with Volvo in a range of senior positions across Europe and the Americas until 2010, when he was promoted to vice president of Latin American markets for Volvo Financial Services.
He continued in this role until 2011, at which point he would work as president of Brazil and Chile for Volvo Financial Services for the next four years, and he has served as president for the Americas at Volvo Financial Services since 2015.