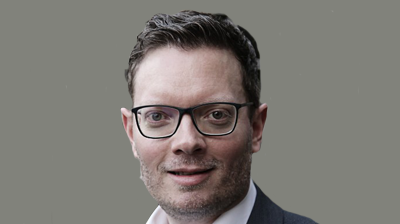 In its latest announcement, automotive insight provider Autovista Group has estimated that economic losses for auto dealers alone during the lockdowns has amounted to €1.8 billion in Europe so far.
This could, in part, be down to the ageing stock sitting out on dealer forecourts, and the daily costs of stock holding at a time when a very limited number of transactions have taken place.
As the news regarding the pandemic continues to pour in, the Group has released a whitepaper on the impact on used-car markets across Europe which lays out a variety of potential scenarios in the near future and provides an outlook to help readers track the impact of the pandemic across major European markets.
A great deal of industry attention has been directed towards predicting what the effects on residual values (RV) will be following the lockdowns and Autovista Group has laid down its forecasts for 13 countries in the whitepaper.
In countries such as Sweden and Finland, they opted for either no, or a more relaxed, lockdown despite more exposure to the economic impact of the crisis. This resulted in a bigger drop in RVs - by 2-3% from the beginning of March – than those markets that had shut down such as France and the UK.
A medium risk scenario has been deemed the most likely outcome for RVs, where the impact will be sizeable but perhaps less dramatic than during the last financial crisis, which may offer a partial relief to some readers.
Christof Engelskirchen (pictured above), chief economist at Autovista Group, explained: "During the 2008/2009 crisis in Germany and Spain, average declines of 12% and 15% across segments built up over 12-18 months. The COVID-19-induced economic crisis will be different. Governments have taken much stronger policy actions against the collapsing demand, the current economic shock is not paired with a lack of financing opportunity and, after the peak of the crisis, we would hope to see some pent-up demand as private consumers will regard the shock as temporary."
A detailed breakdown
With relatively small losses in RVs across markets during the lockdown, many expect this to continue over the coming weeks and months. The building economic crisis has sparked estimates that Europe's economies could contract by as much as 7% or more in 2020, and that we may not be in for a swift recovery as this washes through to purchasing power and private demand.
Autovista also postured that the economic pressure on dealers to reduce prices may outweigh any inflationary benefits from pent-up demand and shortage of new car supply.
Economic cost of dealer shutdown due to the COVID-19 pandemic (until 18 April 2020)





Avg.
used car
price
(EUR)
Loss in RV
since
beginning of
lockdown
Stock days
increase since
beg. lockdown
Stock day
costs per
day (EUR)
Ageing loss per
vehicle since
beg. lockdown
(EUR)
Number of
vehicles on
offer from
dealers
Lockdown-induced
economic loss of
dealers (EUR)
France
17,543
0.2%
22
10
154
550,000
225,105,989
Germany
21,246
0.9%
11
10
187
1,150,000
561,153,836
Italy
17,133
0.9%
19
10
151
350,000
173,176,795
Spain
17,643
0.9%
18
10
155
232,000
114,576,352
UK
17,457
0.6%
13
10
153
460,000
178,564,503
Big 5
19,038
0.7%
15
10
167
2,829,914
1,252,577,475
EU 28
1,789,396,393
Source: Web portal data, Autovista Group analysis
The graph below shows the RV development by scenario cluster, with countries allocated according to their highest probability scenario. Poland and Germany anticipate a low-medium risk decline in RV of around 3% at the end of 2020, and then a swift recovery.
The majority of countries found the medium risk scenario the most probable, describing a drop in RVs and a prolonged recovery phase.
Finally, Romania's more pessimistic view expects a sever fall in RVs of more than 5% at the end of 2020 and no full recovery by the end of 2022.
Used car price development by scenario cluster, UK separated out (indexed)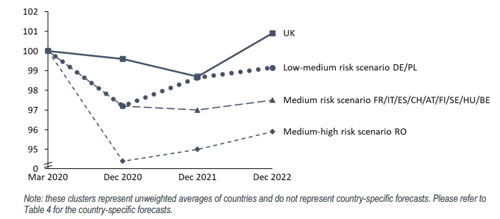 Source: Autovista Group
Marco Pasquetti, forecast and data specialist at Autovista Italia, explained: "Like France, we expect a substantial impact on RVs in the area of 5%, but it will materialise in 2021 rather than this year, because we expect that many people who used to travel by public transport before the lockdown will need to switch quickly to private vehicles and the supply shortage of new cars will support private demand in the used market in the short term."
With the expected drop in RVs highest among the big five European countries, France does not predict a recovery of RVs during the period under review. Austria and Switzerland expect the biggest impact on RVs in 2020, and by the end of 2022 RVs will still trade on average 2% lower than in March 2020.
Forecast percentage change in residual values EoY vs. March 2020
| | 2020 | 2021 | 2022 |
| --- | --- | --- | --- |
| France | -1.5% | -5.3% | -5.3% |
| Germany | -2.2% | -1.7% | -1.7% |
| Italy | -1.0% | -4.8% | -4.6% |
| Spain | -5.4% | -5.3% | -3.7% |
| UK | -0.4% | -1.3% | 0.9% |
| Austria | -3.8% | -2.6% | -2.2% |
| Belgium | -2.7% | -1.0% | -1.1% |
| Finland | -2.0% | -1.0% | -1.0% |
| Hungary | -2.1% | -2.1% | -0.5% |
| Poland | -3.4% | -1.0% | 0.0% |
| Romania | -5.6% | -5.0% | -4.1% |
| Sweden | -3.0% | -1.9% | -1.9% |
| Switzerland | -4.0% | -2.6% | -2.2% |
Note: The values shown in the table above are percentage changes in RV between March 2020 and December of the relevant year. For example, the RV in March 2020 is €10,000 or 48% of the list price, the RV in December 2020 is €9,780 or 46.9%, resulting in a change of -2.2%.
Germany sees the biggest drop in RVs occurring in 2020 (-2.2%). There will already be a small recovery in 2021 and then RVs will stabilise in 2022 at a level down 1.7% compared to March 2020 values. The expectation is that Germany will come out of the crisis more swiftly as private consumption will support the economy.
Spain was one of the two markets that lowered their outlook further, expecting to see a substantial drop in 2020 of 5.4% compared to March 2020 values. Even in 2022, RVs will not have fully recovered due to their very strong performance in Spain during the past few years, ultimately causing the downward correction to be more pronounced.
According to Ana Azofra, valuation & insights manager at Autovista Spain: "Two months after the beginning of the crisis, the idea of a v-shaped recovery has vanished, and we expect a longer and deeper recession. Unemployment will grow substantially, and this will harm private demand and drive RVs down fairly quickly."
More detail on the early impact of the coronavirus and the outlook for market recovery is available in Autovista Group's updated whitepaper: How will COVID-19 shape used car markets? Scenarios for residual value development in Europe for 2020, 2021 and 2022. Download your copy here.