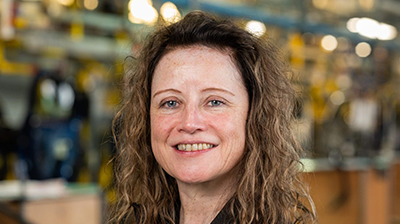 Stellantis has marked the start of electric vehicle production at its Ellesmere Port manufacturing facility, as the first all-electric vans roll off the production line.
Ellesmere Port is the UK's first EV-only manufacturing plant and the first Stellantis plant globally dedicated to electric vehicles, following a £100 million investment to transform the plant for EV production.
The Ellesmere Port plant will produce the Vauxhall Combo Electric, Opel Combo Electric, Peugeot e-Partner, Citroën ë-Berlingo and, due to increased demand for electric vehicles across Europe, the Fiat E-Doblò, compact vans.
From 2024, Ellesmere Port will also produce a range of electric passenger vehicles across the Stellantis brands, including the Vauxhall Combo Life Electric, Peugeot e-Rifter and Citroën ë-Berlingo MPVs.
Diane Miller (pictured), Plant Director, Ellesmere Port, said: "The start of electric vehicle production at Ellesmere Port signals a bright future for the plant, ensuring it will continue to manufacture vehicles for many years to come. With Vauxhall's long history of UK manufacturing, it's especially fitting that the first electric model to roll off Ellesmere Port's production line is a Combo Electric. Whilst the welcome addition of the Fiat E-Doblò to the plant is a positive reflection of increasing electric vehicle demand.
"Stellantis is committed to working with the Government to ensure the UK automotive industry remains competitive for producing electric vehicles for the long-term."
Mike Hawes, SMMT Chief Executive, said: "A milestone for UK automotive manufacturing with the start of production at Ellesmere Port, which becomes the first all-electric vehicle production plant in the UK. Electrifying British automotive manufacturing will help deliver jobs, growth and net zero and shows we are globally competitive. With UK van production already at a 12 year high, it is a further boost to our advanced auto manufacturing sector and its supply chain."
As part of its transformation for EV production, the Ellesmere Port plant has undergone several key changes, including the addition of a battery assembly shop, upgraded General Assembly and relocation of the bodyshop. This has contributed to a 60% reduction of the total site area for improved energy efficiency and productivity. At 118,000m2, the entire plant is now a similar size to the previous bodyshop.
A new test track has also been built and a new parts distribution warehouse is in its final stages of construction, ahead of becoming fully operational in early 2024.
The plant upgrade also forms a part of Stellantis' Dare Forward 2030 commitment to halve its carbon footprint by 2030 (based on 2021 data) and to become carbon net zero, globally, from 2038. Sustainability improvements include the introduction of a new, more energy efficient '4-wet' paint application process, while a localised CHP (combined heat and power) plant is also being installed to generate electricity on-site, bringing a further reduction in emissions.
As part of its ambition to become carbon neutral before the end of the decade, the plant is working towards running on solar and wind power as well as connecting to the HyNet North West Hydrogen Pipeline.