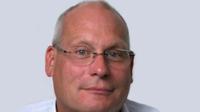 Interactive video ticks many boxes when it comes to auto and asset finance. The technology feeds growing demand for video content among consumers because it can deliver personalised and relevant content in a way that is interesting and engaging.
This is important when it comes to dealing with technical or dry content. If a video can make things simpler and easy to understand for the viewer, then the more compelled they are to respond to it.
Andy Berry, vice president EMEA, software, at Pitney Bowes comments: "Interactive video can improve understanding of a product or service by more than 70%."
In an interactive video context the response is based on the simple concept of allowing the viewer to choose where to go next; to fill in a request for more information, get a quote or ask for a face-to-face meeting.
Matt Byrom, managing director at Wyzowl, an interactive video production company, explains: "Up until recently, most videos were simple animated explainer videos. But the introduction of interactive elements gives viewers the choice over where to go next and a menu of calls to action to choose from."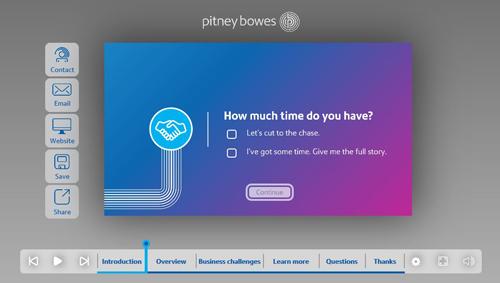 One such offering is Pitney Bowes Engage One. It works by combining big data and predictive analytics with customer intelligence to provide relevance and personalisation.
Organisations build in their own intelligence based on the questions or prompts they think viewers will want to use.
In this way, customer interaction is built into the content. At key stages during viewing, for example, the video may ask for information or a response, at which point the video content will branch off in a new direction, depending on the user.
Refinement
The technology also allows for further refinement, leading to more targeted communication.
For example, the Pitney Bowes product has video performance and success metrics to provide organisations with insights into how viewers are using the video.
This can help to refine things further down the line as far as the video is concerned but also inform future marketing or customer retention efforts.
Byrom explains: "It's not just the video as an end or a finite product. We can get stats on what sections have been watched, which calls to action are most popular and what is requested in terms of further information. This helps a process to evolve."
Berry adds: "For sales, you can send out videos, know who viewed them, how long they viewed them for, who they forwarded them to, so you can see the whole network of information as they view it, including which parts of the video they viewed."
Current uses
Interactive video is highly effective when used within the sales process overall, notably for marketing and customer retention. It can also help with onboarding and cross-selling, as well as reducing the human resource needed to support the whole process.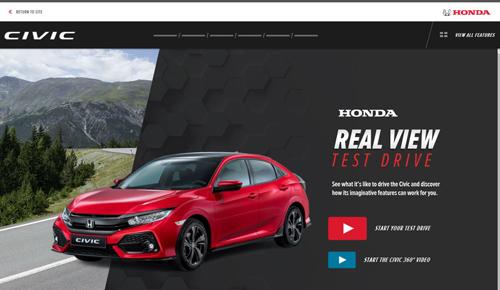 Honda, for example, is hoping to replicate the dealership experience through interactive online video ads.
In an initiative called 'real view test drive' viewers can watch online adverts for the Jazz, Civic, HR-V and CR-V models and at any point pause the story to get in-depth demos of features, such as seating and interiors.
BMW is also a user. Nigel Unwin, head of marketing at BMW Group Financial Services (pictured above) says: "A number of our dealers are using CitNow as a method of communicating on a one-to-one basis with their customers and prospects by using personalised videos that introduce the vehicle and also the retailer. This enables a far more personalised and engaging approach than a traditional email."
Berry comments: "Interactive video can be used for upselling. So in a product video, it could explain what a customer has bought and introduce similar things that people might be interested in buying. It is a virtual sales team that scales without cost. It can tell people a story instead of them receiving a bland, scripted briefing."
According to CitNow, consumer confidence in the value of video is driving demand for technology. Almost three-quarters of buyers report improved confidence when using video to support a purchase. One in 10 proactively requests a video from their dealer.
Finance
But how can interactive video be better used when it comes to the actual deal?
The benefit here is that the solution can make the mundane more manageable, by presenting information in an interesting way to keep consumers interested. It can provide consistent delivery of key facts, which is important in a compliance-driven industry where products are often technical and hard to explain.
Although interactive video cannot yet be used for the actual PCP agreements themselves, they can be a great deal of help when it comes to explaining them conceptually; flexible terms, monthly payments, APR interest rates, financial penalties for excess mileage and minor damage to the car and so on.
Again, the whole idea is that the interactive element means the customer sees only what is relevant to them and their situation.
Unwin says: "We consider video as an important way of introducing the finance products that are available from BMW Group Financial Services. These videos are hosted by our main brand websites."
For example, a video could summarise a car finance arrangement in a more engaging way than just showing them a contract. Using a standardised format ensures that the content is compliant and has the right information. The viewers then confirm that he or she has understood what has been presented to them.
Alistair Horsburgh, CEO at CitNow, a specialist video content producer for the automotive industry, comments: "Where we think interactive video has the greatest effect is having a series of standardised videos which all have calls to action on them, so there is information about a car and then the viewer can click to get more information on the various deals and options."
He gives the example of a video about being 24/36 months through a contract and customers needing more information as to what the options are.
He says: "The viewer can click through to see what would happen if he or she upgrades, does nothing, gets a new contract etc.
"It's about being able to communicate and have touch points with a customer that are more engaging and retentive than a letter."
Berry adds "Some topics are pretty dry. People don't want to read documents. But video, at its base, makes the complex simple. It makes things exciting and engaging and it enhances that customer experience. It is massive in terms of its role in educating people. Where we see most uplift right now is explaining detailed documentation."
One example of this in action is with Florida-based Security First Insurance. It launched personalised interactive videos through EngageOne.
It developed an animated, seven-minute interactive video in which a character addressed customers by their name and invited them to explore personalised information or coverage types.
Hyperlinked buttons then appeared on the screen allowing the viewer to navigate from section to section. The conclusion invited viewers to access the company website and home safety blog.
Compliance
Another stage in the development of the technology is interactive video chat within an app that allows users to sign agreements, take photos of documents and talk directly to customer service staff.
Here the idea is that an interactive video chat connects a smartphone or tablet user directly to a customer service agent through the app to go through a complex process – this is already successfully being used for mortgage applications within the retail banking industry.
Barclays Video Banking is one such example. It offers customers the opportunity to speak to a video banker via smartphone, tablet or computer. An additional benefit is that interactive video also obtains digital proof that every required element of a service or product has been presented and understood.
Lloyds and Halifax have also launched its service where customers can speak via video link on a laptop, desktop, or tablet computer.
A third (33%) of appointments from Lloyds Bank customers that would have been completed over the phone are now completed via video and videos can also be used in branch too. 33% of phone appointments are now completed via video.
James Goddard, chief executive of integrated marketing agency JJ Marketing thinks that using interactive video in this way may well turn out to be the sweet spot.
Indeed the majority of consumer new car 'purchases' are now financed through some form of PCP arrangement and manufacturers and dealers need to be able to show that they have treated customers fairly throughout the process. They also need to be able to show the Financial Conduct Authority that the customer fully understood any potential penalties, such as excess mileage charges and fair wear and tear.
Goddard says: "By communicating with the customer through interactive video, the finance provider has the ability to track and report on exactly what the customer viewed. This builds an audit trail and, as a result, they can evidence a level of understanding for every single one of their customers. In my view, this role in financial compliance may yet turn out to be the most important and effective contribution for interactive videos in the car buying journey."
Horsburgh agrees: "The ideal would be that interactive video also obtains digital proof that every required element of a service or product has been presented and understood and that the compliance steps have been adequately completed."
Barriers
It is strange then that the biggest barrier to uptake so far is uncertainty around getting the compliance aspect right, as well as a preference for keeping some things face-to-face.
Unwin cautions: "Within the retail banking industry, they have a far greater knowledge of the customer's personal history. The relationship is directly with the retail bank and the customer, without the involvement of a retailer. We do not use personalised videos in this context as it is important to have a full understanding of each individual customer's needs and requirements. This is best done, we feel, in a face-to-face environment within the retailer premises by their trained finance staff to ensure the customer is treated fairly."
And Horsburgh explains: "This is still at a relatively immature stage and we are trying to work out what the compliance journey needs to be in terms of mandatory gateways. For that reason this is something that is, at the moment, best used around the PCP deal and to support it.
"Retailers are fumbling with trying to remain compliant. We are working with several industry partners, to try to determine how they can make the most of the technology while staying within the boundaries of compliance. For example, we don't want to be quoting figures within a video but we can put fields in at the end of a video where the customer can get something similar to an online quote which is then followed up."
Eventually, interactive video will come into mainstream use. Goddard thinks that most customers want even more digital interactions than brands currently provide.
Horsburgh says: "Interactive video is extremely potent in marketing and customer 'onboarding', offering significant cost savings in the latter process, and will eventually also come to the fore with video where the viewer is in control.
"The significance with interactive is that the viewer is telling you what they are doing, what their behaviour is and that is building a compliance data pot that is auditable."