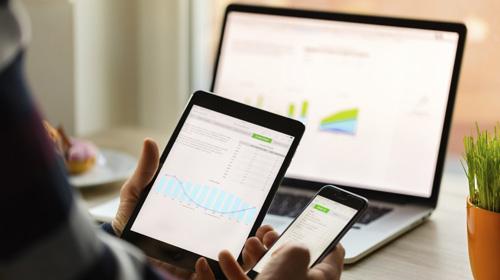 The growing sophistication of affordability software has the power to transform the way lenders interact with customers, but organisations should avoid an over-reliance on technology, experts warn.
Affordability software automates whole elements of the creditworthiness assessment process when considering finance applications, to effectively deliver a self-service solution to customers that slashes approval times from days to minutes.
In addition, the risk of default can also be reduced because of the sheer scale of the customer information collected directly from their bank accounts for analysis.
The true potential of affordability software has been unlocked by the arrival of open banking legislation this year, which allows consumers to provide approved companies with read-only access to their bank accounts.
Instead of having to use character recognition technology to assess customer bank statements, lenders can import information directly from the client's bank account into software systems for analysis.
This delivers three key benefits.
Firstly, the customer experience is transformed, as there is no longer a need to laboriously source and type in data. Instead, the software can automatically categorise information and complete much of the evidencing process automatically.
Customer experience is increasingly critical to success, so minimising frustration and delays is important.
Lenders can obtain a more accurate, real-time view of a customer's financial situation and this allows services to be tailored, increasing conversions and loyalty.
A second benefit is the reduction of risk, both for the lender and the customer.
Detailed analysis of bank data provides an intricate understanding of a customer's financial background, including income and spending habits, so that a lender can be sure consumers can afford new loans without creating financial hardship.
It also forms the basis for wider risk assessments of whether customers can withstand so-called financial shocks without affecting their ability to pay their bills, particularly for essential items, such as rent or mortgage, utilities and food.
There is potential for affordability software to go further and monitor financial well-being on an ongoing basis to identify the changing risk of default.
A third key benefit is compliance, as affordability assessments offer high-quality evidence of applicant finances, minimising risk, while also treating customers fairly, which are key FCA requirements.
Martin Leonard, chief operating officer of financial technology company Castlight, told this year's International Auto Finance Network conference: "The technology that is available now not only puts affordability at the heart of these markets, but it improves the customer journey and reduces bad debt.
"A big part of that will be open banking, giving instant access to granular data, delivering a comprehensive view of income and expenditure.
"It puts an end to the debate about customer empowerment and who owns the customer across the journey, because the customer owns the customer. An individual's data is one of their most powerful currencies.
"You are dealing with actuals, not averages, the facts of what a customer can afford. Income and expenditure will be auto-populated, so there is no keying in of data required."
This view was supported by Tom Smart, Associate Director at global financial software provider Alfa, who said: "Integration into sales applications of the latest customer identification and affordability tools - including open banking - has the ability to transform the customer's experience of asset finance.
"It removes the age-old competition between maximum data entry for underwriting and minimum data entry for a smoother sales process. It also helps you offer customers the right products, treat them fairly, and make quick, smart credit decisions without the keystrokes burden.
"Vital to this is acknowledging the additional trust required from the customer. They require confidence that their data is being managed securely, and that they have control over its use."
The increased granularity of data is particularly valuable in difficult to serve markets, where a traditional credit profile may be lacking, such as 18-24-year-olds.
Leonard said: "Just because you are young and you rent and you don't have a credit score shouldn't penalise you when accessing finance."
The automated categorisation of data through affordability software allows lenders to assess spending quickly in key areas, but its use also generates much wider insight through big data by matching default patterns to income and spending categories.
There is such a thing as 'bad income' Leonard said, such as Job Seekers Allowance where the risk of default jumps 116%.
Spending analysis has shown that if the amount a customer takes from a cash machine each month is more than 50% of their income, the risk of loan default rises by 114%. If there are payments to gambling sites on their account, the risk of default rises 3.9%.
By contrast, people with roadside assistance have a 17% reduction in their risk of default, while evidence of car insurance and car finance payments is also seen as reducing risk.
Rob Haslingden, head of propositions, credit services at Experian, said: "It gives you the opportunity to better serve your customers if you wish to embrace it.
"It is a whole new world around consumer consent; empowering consumers to share data if you put in place a great value proposition.
"It is around enhancing decision-making. What the tools and data will enable is more personalised lending decisions which benefit the consumer but also benefit you by reducing risk in the organisation."
The challenge for many lenders will be how to transition away from legacy systems to make the most of the potential of big data and open banking.
At a recent conference held by automotive analysts Sophus3, legacy systems were highlighted as one of the most common barriers to digital development along with management reluctance to disrupt current business models and restricted budgets.
But Haslingden argued for change, saying the data which drives affordability software will also empower a new focus on generating lifetime loyalty among customers.
He said: "You can pull data regularly, so not just for the applications and origination, but to manage the customer through the lifecycle."
During the first half of this year, Experian is launching a service for an automotive lender which uses a combination of open banking, credit scores and financial data to inform an automated decision on a credit application while the customer is in the dealership.
He added: "The premise behind that is you can see the car on the forecourt and you can process the loan in a matter of minutes. That is a huge incentive for the consumer to share their data with you in real-time.
"It means you get access to more credit data and a more informed decision around that, but it's a better experience for the customer."
Despite its potential to transform the customer journey, affordability software will only be part of the solution.
Firstly, not all potential customers are connected; there are 8 million consumers who don't have an online bank account.
Secondly, there will be a proportion of customers who decline to share their bank account data, particularly in the early days of open banking while trust is still being established.
One potential solution is that trusted intermediaries provide 'personal data lockers', which host verified content from customer bank accounts, which is then shared with lenders as an alternative to directly accessing their bank details.
Haslingden said: "There are challenges, but there are solutions out there and it is for you to test and learn with customers, articulate your value proposition, partner and invest in analytics because there is real potency in personalised lending decisions."
In time, consumers may come to expect that lending decisions can be made with the minimum of effort and in a very short time-period.
However, experts say the FCA is keen to ensure that consumers have adequate time to consider finance-related decisions to ensure they understand the nature of their commitment.
Its guidance says: "We expect firms to have clear and effective policies and procedures for making a reasonable assessment of creditworthiness in each case.
"That does not preclude the use of automated processes, provided that the lender can be reasonably satisfied that these are effective in making a reasonable creditworthiness assessment in individual cases."
Joanne Davis, partner and head of asset and consumer finance at Locke Lord, said: "The FCA are saying they are embracing that you use digital technology, but they are certainly not endorsing that's all you should be doing as lenders.
"I think it's really important that when you do embrace it you are not relying on it so heavily that you are not doing your own enquiries as well, particularly for non-prime customers.
"Evidencing is really important. From the complaints that we are now seeing, a huge part of it is lenders having to pay out with a complete unwind of the deal because they can't evidence that they have taken responsibility to ensure that the customer is not only credit worthy, but that the lending is affordable as well."
This suggests that finance services will develop hybrid processes that make maximum use of technology while intervening in specific cases where it is clear more rigorous affordability checks are required.
Davis said: "Automation is brilliant and the FCA say it's fine to have an automated process, but it's not going to be the only thing.
"If you are purchasing this great affordability software, please still do your own work and make sure you can manage associated risks."
| Challenge | Solution |
| --- | --- |
| Define and articulate the value of sharing data | Test and learn with customers |
| Gain consent | Qualify and articulate value proposition |
| Invest in the technology | Partner to win, move with pace and save money |
| Leverage the value of the data | Invest in the analytics, personalise the lending decision |
| Remain compliant | Treat customers fairly and responsibly |
Source: Experian
Customer journey utilising open data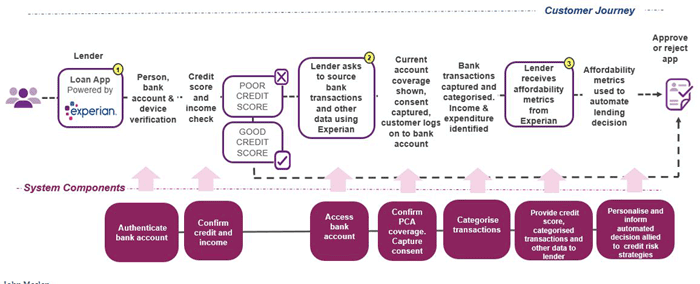 Source: Experian