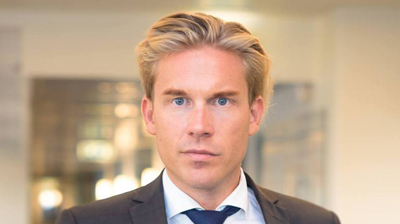 The finance industry is being stifled by legacy infrastructure and bureaucracy, leading to rapidly rising interest in the power of regtech solutions, according to industry analysts.
This year has been a watershed when it comes to the legislative burden, with the arrival of the EU's General Data Protection Regulation, the Second Payment Services Directive (PSD2) and numerous other pieces of disruptive legislation.
With substantial fines for non-compliance, the finance industry faces rapidly rising costs unless new ways can be found to efficiently meet legal obligations while also minimising risk.
According to Christoffer O. Hernæs (pictured), chief digital officer of Sbanken, Norway's first online-only bank, following the financial crisis regulatory load has increased globally by more than 500%,while for US banks compliance can account for more than 10% of operating costs. European banks say the average cost of compliance is 4% of total revenue, rising to 10% by 2022.
Business intelligence company CB Insights reports that financial institutions are increasingly looking at new regulatory technology (regtech) to ensure they adhere to legislation, while minimising the costs of compliance. It also helps them get ahead of requirements before deadlines, and detect enterprise risk before the regulators do.
It defines regtech broadly to include any technology and/or software created to address regulatory challenges and help companies understand regulatory requirements and stay compliant.
The technology ranges from software that automates workflow to advanced technology like machine learning, natural language processing and blockchain, which can replace old policies and procedures.
It reports that new regtech companies are gaining traction because they can help financial services companies navigate through compliance-related pain points.
Regtech start-ups have raised more than $6.2 billion across approximately 680 equity investments since 2013.
While some financial institutions may see regtech as a way to navigate problems with existing legacy solutions, Hernaes suggests it should be part of a wider business update.
He said: "While many banks approach regtech based on complementing workflow and automating existing legacy processes, the future of regtech seeks to leverage new technologies in order to replace cyclical legacy processes that focus on a rear-view perspective with continuous monitoring and predictive analysis.
"In order to reap the benefits of the future of regtech, banks should aim to invent the future of risk and compliance instead of improving the past."
CB insights categorises the influence of regtech companies in financial services into a number of key categories.
They include:
Anti-Money Laundering/Know Your Customer (AML/KYC): This category includes companies that address anti-money laundering (AML) requirements, which prevent banks from being used, intentionally or unintentionally, by criminal elements for money laundering activities. Know Your Customer (KYC) tools help verify the identity of clients or personnel.
Blockchain/Bitcoin: One of the largest concerns regulators and public and private market participants have with blockchain technology and bitcoin exchanges is security. Companies in this area conduct risk assessments and monitor blockchain technology and provide audit trails.
Enterprise Risk Management: This sub-category includes companies that address broader risk types that impact more than one area of the enterprise, such as fraud risk. This includes client life-cycle management, regulatory onboarding and monitoring for fraud.
Operations Risk Management: Companies in this category provide software to manage the day-to-day operational risks of a financial services organisation, including governance, risk mitigation, incident identification, issue tracking, monitoring for compliance obligations, data storage, and reporting.
Reporting: These companies provide a mix of software and tools to incorporate data analytics into reporting, automate regular and ad-hoc reporting, and centrally maintain information for future reporting requests.
As financial institutions consider the potential benefits of adopting regtech, they are likely to follow four key stages, with each stage representing a higher level of automation.
The first is the manual phase, which is the starting point for most regulatory and compliance teams, according to CB Insights. This phase relies heavily on manual data capture.
Establishing audit trails can be difficult, there is a higher risk of inputting errors and there can be inconsistent reporting as individual departments use the data in different ways, particularly when using standard spreadsheet software, such as Microsoft Excel.
CB Insights said: "Many firms are still stuck with dated manual processes and Excel is still an integral tool used today to support risk and compliance functions."
Phase two is workflow automation, where software starts to be purpose-built for the regulatory and compliance workflows of each organisation.
Financial institutions start to leverage software for regulatory reporting, maintaining audit trails, and importantly this automates some of the repetitive compliance tasks to reduce costly errors and drive efficiencies in how employee resources are used.
Workflow automation can also include document scanning as one of the key steps towards digitalisation.
The third phase is continuous monitoring, where technology offers a proactive resource for maintaining compliance.
It identifies inconsistencies and gaps as they occur in real-time, which minimises risk and avoids time-consuming investigations to correct errors long after they have happened, something that can often occur in manual processes.
Systems can use data analytics to monitor behaviour to predict and prevent fraud.
The final stage is predictive analytics, where automation provides new levels of insight through machine learning to provide a strategic overview of compliance risks while proactively offering solutions.
CB Insights reports that global investment in regtech start-ups has soared in Q1 2018 to $311 million compared to $160 million for the same period last year, creating a growing array of solutions for the financial services market.
Global financial software company Alfa has published detailed insight into how companies are embracing the potential of digitalisation and regtech.
Its Digital Directions: Exploring digitalisation in the asset finance industry report said: "Leasing companies, particularly those based in Europe, agree that increasingly tougher reporting requirements can only be met through extensive digitalisation, particularly of back-office systems and the associated reporting processes."
C-suite executives were consulted about their views for the report and they saw regulation as both a challenge and an opportunity.
It is a challenge because regulation imposes constraints on the extent to which some processes can be digitalised where human intervention is traditionally required.
The CEO of a European lessor quoted 'Know Your Customer' requirements as an example, arguing that validation of a customer's identity can only be accomplished in person in order to remain compliant.
However, software suppliers are now developing smart contract applications, combining online e-signature and automatic credit verification checks with video capture processes to produce solutions that can provide a compliance process and an audit trail of the customer verification procedure.
The Alfa report also identified that the ability of existing staff to adopt new skills and working practices could be an issue and, while some demonstrate the flexibility required and are comfortable working with technology, others do not.
One UK CEO noted that the situation is similar to that in retail banking where staff are either reskilled for the digital, online environment, or transitioned out of the business.
* DOWNLOAD - Digital Directions: Exploring digitalisation in the asset finance industry