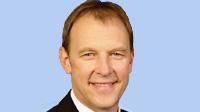 Executives at Volkswagen Financial Services are predicting efficiencies of €1 billion from the impact of digitalisation on its business model by 2025.
The prediction follows record results for the company during 2017, with operating profit up 16.9% to €2.46 billion and the total value of assets rising nearly 10% to €186.9 billion.
Volkswagen Financial Services now finances 19.7 million contracts, a year-on-year rise of 16.9%.
Frank Fiedler, chief financial officer of Volkswagen Financial Services (pictured above), said: "The good result was primarily based on the positive growth of our current contract portfolio and a lower level of refinancing and risk costs than in the previous year."
Lars Henner Santelmann, the chairman of the board of management of Volkswagen Financial Services, said the results allowed the business to plan for the future from a position of strength.
He said: "The key to this is the complete digitalisation of our business model. This is leading to growing online sales for our service spectrum, the concomitant optimisation of our sales and marketing costs, and a leaner IT system landscape that enables considerable productivity gains.
"This will boost efficiency by around €1 billion by 2025 - with an unchanged core team."
Over the same period, the business plans to expand its contract portfolio by more than 50% to 30 million.
The growth drivers for the contract portfolio continue to be services such as maintenance, wear & tear or tyre management, which are of particular importance to the fleet sector among other segments.
At the end of 2017, the volume of service contracts amounted to more than 4 million units for the first time, an annual increase of 16.8%.
The total number of new contracts rose 5.5% to almost eight million units over the same period.
The Chinese, Italian and Spanish markets, in particular, recorded a high volume of new contracts during the last financial year.
The 2017 figures for total current contracts and new contracts also include the contracts of Porsche Financial Services for the first time. The previous year's figures have not been adjusted.
Volkswagen Financial Services is a business division of the Volkswagen group of companies with key business fields in dealer and customer financing, leasing, banking and insurance business, fleet management and mobility offers.
Volkswagen Financial Services overview
New contracts worldwide
(in thousands*)
2017
2016
% change
Financing
2,450
2,256
8.6
Leasing
1,766
1,643
7.49
Services
1,583
1,522
4.01

Insurance

2,195
2,156
1.81
Total
7,993
7,577
5.49
Portfolio of current contracts worldwide

(in thousands*)

2017 full year
2016 full year
% change
Financing
6,076
5,781
5.1
Leasing
4,041
3,569
13.22
Services
4,012
3,435
16.8

Insurance

5,599
5,459
2.56
Total
19,727
18,244
8.13
*Rounded figures
Source: Volkswagen Financial Services