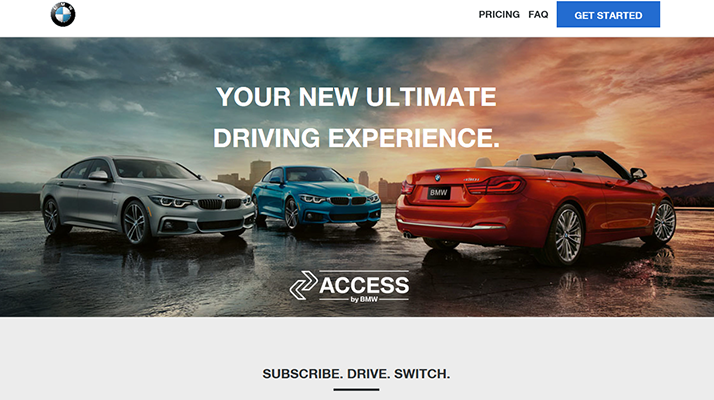 BMW is offering new car subscription services on both sides of the Atlantic with the launch of two new initiatives.
In the US, BMW Financial Services has launched a pilot vehicle subscription service called Access by BMW.
The service will debut as a pilot program in Nashville, Tennessee and will operate through local BMW dealers, who are responsible for vehicle deliveries and maintenance.
Users can order vehicles through an app on their smartphone and there is no limit to how often members can switch vehicles within a given month.
During the pilot phase, Access by BMW memberships will be offered in two tiers, ranging from $2,000 - $3,700 per month, inclusive of vehicle maintenance, insurance and breakdown cover.
A 'legend' tier will include a selection of the full standard range of BMW models, including SUVs and plug-in hybrids.
An additional 'M-tier' covers the brand's most powerful high-performance models, including the M5 and X5M SUV. There are plans for an expanded range of tiers as the service is developed.
Access by BMW is powered by Clutch Technologies, which has developed a car subscription platform.
Ian Smith, CEO of BMW Group Financial Services USA, said: "As customers continue to explore the growing mobility market, service-related offerings are becoming more in demand.
"With Access by BMW, our members will enjoy the freedom of personal mobility with access across a broad range of our highly emotional vehicles.
"Subscription-based services are of emerging interest for our customers, and we're excited to be offering a mobility service to meet their individual and evolving needs."
In the UK, BMW Group is partnering with venture capital-backed car subscription start-up Drover to offer BMW and MINI cars.
Users can swap, upgrade or downgrade their car each month or just cancel, without penalties, while discounts are provided for longer-term subscriptions.
Chris Brownridge, sales director at BMW Group UK, said: "New, creative solutions allow the chance for car buyers to experience BMW or MINI ownership for as long or as little as they require.
"Through Drover's new subscription model, we are able to provide an even wider range of ways to access BMW and MINI vehicles for retail buyers to suit their changing requirements."
BMW is the latest manufacturer to introduce subscription services, with manufacturers ranging from Mercedes-Benz to Porsche offering programmes, while leasing firms and technology providers are also launching services.
The UK partnership with Drover developed from BMW's Innovation Lab program, under which start-ups can trial their products at scale, receive expert mentoring from senior members of the BMW Group UK management team and access insights from leading subject matter experts in the automotive and automotive finance sectors.
Felix Leuschner, founder and CEO of Drover, said: "We are incredibly excited to be working with BMW Group UK and very proud to be announcing our partnership, which is a direct outcome of our participation in BMW's Innovation Lab."
In addition to BMW, Drover offers a wide range of other brands on its car subscription service, which it provides through more than 100 fleet partners that list vehicles using its system.
Drover launched in January 2016 and since then has handled tens of thousands of vehicle bookings.
The BMW Innovation Lab programme was managed by tech investor L Marks, an innovation agency that helps large or established organisations to work with early stage businesses and start-ups to develop new products and ideas.
As last year's International Auto Finance Network conference, L Marks chief operating officer Liberty Mawhood said companies can have dramatic results on the shape of their business and even the industry by reaching outside their businesses and importing innovators.
Earlier this year, BMW Group UK announced the start-ups that will be part of its 2018 innovation lab.
They are:
L Marks recently launched in Japan, following the announcement of its first Asia-based programme with BMW Financial Services Japan.
Daniel Saunders, L Marks chief executive, said: "Japan is a hugely exciting market for us with some of the strongest corporate brands in the world and a large network of innovative technology start-ups.
"We see our agreement with BMW as the first of many innovation programmes that we hope to deliver in Japan, a country with an already established history of automotive and technological innovation."
Stuart Marks, L Marks founder and chairman, added: "Whilst we've previously had Japanese start-ups apply to our UK programmes, we're looking forward to accessing more of the fantastic talent and solutions Japan has to offer.
"Giving these entrepreneurs access to the leadership of BMW Group Financial Services Japan and to relevant functional teams will greatly accelerate their product development and business growth."