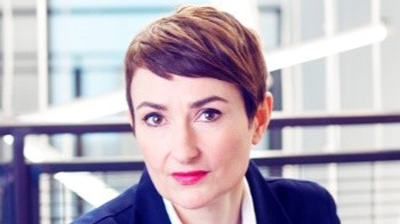 Finance companies that compete by making only small improvements to their current services will come under threat from newer, more agile rivals, a leading industry expert has warned.
Louise Beaumont, a start-up investor and industry advisor on open banking, points to the "democratisation of data" as the driving force behind fundamental changes in the finance eco-system.
As customers share their financial data under new European open banking legislation, banks face being relegated to the role of infrastructure provider, disengaged from their customers and simply holding or moving money, as consumers focus on a value exchange when sharing data with companies.
Beaumont said: "There is a clear legal principle that I own my data. I own it, I can share it with organisations that will give me something I want in return for my data.
"Banking consumers were generating data and it was delivering zero value, as banks have typically hidden and hoarded it, but never really looked at it.
"In every other aspect of our lives, there is a value exchange for our data and we receive something good in return. Only in banking does it have to hurt."
Beaumont, an open banking advisor to Publicis and co-chair of techUK's Open Banking Working Group, believes that consumers will be attracted to interact with service-orientated companies that are proactive and develop services based on a deep understanding of the customer, offering them something "they never knew they wanted and didn't ask for, but can't live without".
"This is the death knell for the incrementalists. A bit faster or cheaper doesn't work," she said.
She argues that data will drive insight that uncovers unmet and underserved needs, leading to the development of services that are delivered with an unwavering focus on service.
Uber is an example, not as a ride-hailing app but as a company that is focused on the customer to such an extent, it can meet a need the moment that need occurs.
The brand is "stretchy" and can adapt to meet those needs in a variety of ways, such as Uber Eats. Another example is Amazon, with services ranging from movies to data storage, fashion, groceries and books.
"Can you imagine Barclays doing that?" Beaumont added. "It just doesn't stretch."
A world of hyper-personalised, pre-emptive, proactive services will develop as open banking widens from current accounts, to savings, loans and mortgages over the coming years to disrupt every element of the finance sector.
She argued that at the forefront of this change will be the "tech titans", the dominant forces of Google, Apple, Facebook and Amazon, along with major Chinese brands that have less global reach but still serve hundreds of millions of consumers.
She said: "Some disruption may come from fintechs, but it is much more likely from the tech titans, which are far more experienced eco-system players.
"Tech titans can, with customers' permission, access banking data through APIs and they are data first players with rich levels of trust and engagement. It is a different kind of trust to the banks, but very powerful engagement.
"They have huge financial reserves and are used to making big bets. They aren't afraid of failure and they have trained their shareholders to expect explosive growth, not quarterly dividends, so they can make those big bets."
Other finance innovations could come from major data holders, such as energy and telephone companies, where they can offer immediate benefits through proactive services that deliver cost savings if customers share their financial data.
Beaumont added: "Data players might be energy supply or telco companies. They have rich customer data sets which they can now augment, only needing the consumer's permission, with banking transaction data.
"We all share data with impressive promiscuity on a daily basis and we have been trained by the tech titans to so do over the past 10 to 15 years. We will do so based on the quality of services that are offered."
Beaumont added there are five key factors powering any successful company in exploiting the opportunities created by open banking and greater consumer data rights.
In addition to having a "stretchy" brand that can easily adapt to new business models, an essential element is talking and listening to customers. That insight is then used to focus on service design that improves people's experiences and delivers value.
A fourth critical element is service delivery, based on an eco-system that constantly innovates around customer needs.
The final element, which is the foundation of business model success, is data; sourcing it, interpreting it and acting on it quickly.
Beaumont said: "The big question then becomes 'can banks change their business model to adapt?'. In a service-driven world, their business model is a problem."
The opportunities from digitalisation have led to the launch of a number of fintech challengers in the banking world, with companies ranging from Countingup to Oodle Car Finance attracting investment for new launches.
In addition to companies rewriting the business model for finance, established players are also looking at its potential impact.
Executives at Volkswagen Financial Services recently predicted efficiencies of €1 billion from the impact of digitalisation on its business model by 2025.