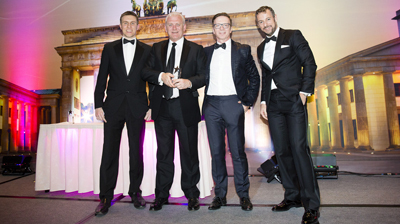 Leading finance technology company, White Clarke Group, and Toyota Financial Services have received a joint accolade for their work on a digital innovation.
The award is based on White Clarke Group's CALMS Digital Processing Solution that went live with Toyota in October 2017.
The CALMS Digital Processing Solution, including e-signature and e-identity capability, provides advanced digital processing capabilities for document generation and management, as well as helping streamline the customer experience and reduce operating costs.
Brendan Gleeson, group CEO at White Clarke Group, said: "Digital processing is becoming increasingly important in our industry and we are delighted to win this award. I would like to congratulate Toyota Financial Services (UK) for the double victory."
In their notes, the judges of the 'Digital Innovation of the Year ‒ Consumer Lending' award, said: "Sometimes it is easy to be complacent about just how advanced some motor finance lenders are. This year's winners were able to demonstrate how they built up to an advanced level, and were able to successfully innovate on top of that to give them, in many respects, market-leading solutions to age old problems."
White Clarke Group is the global provider of end-to-end loan origination, servicing, collections and wholesale finance technology for the automotive, consumer and equipment finance sectors.
It employs around 600 people, with offices in the USA, UK, Canada, Australia, Austria, Germany, India and China. Its clients include GM Financial, Toyota Financial Services, Volkswagen Financial Services, Daimler Financial Services, Ford Credit, BMW Financial Services and FCA (Fiat Chrysler Automobiles).
The award win was presented at the recent Motor Finance: Europe Conference & Awards last week in Berlin.