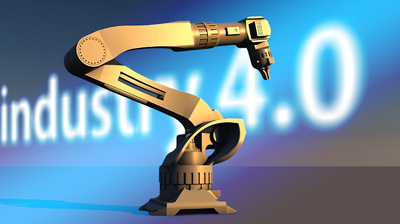 Digital transformation is driving change in manufacturing with equipment financing playing a key role in developments, according to a new report.
Research from Siemens Financial Services (SFS) argues that finance has to adapt to the developing needs of the manufacturing sector, as it responds to the fundamental changes brought about by what experts are calling the fourth industrial revolution, or Industry 4.0.
The productivity gains available from digitalisation and automation are affecting every industry, from automotive to machine building and the printing sector, delivering a 'digitalisation productivity bonus', SFS said in a new report.
Creating this automated, digitalised manufacturing environment requires major investment and it is changing the nature of finance, according to SFS, with an increasing focus on 'pay to access/use' services and payment for outcomes instead of directly for the equipment itself.
For example, Südzucker, Europe's biggest sugar producer, wanted to invest in new technologies to achieve environmental and cost savings during production.
The Südzucker Zeitz plant in Germany introduced a fan system with a new Siemens drive, financed by SFS using an energy performance contracting model.
Under the arrangement, monthly instalments are adjusted according to the actual savings that result from the reduced energy usage. The company did not need to raise capital to acquire the technology.
Südzucker is currently saving 930,000 kilowatts each year, or 680 tons of CO2 emissions.
Financiers are developing a range of specialist financing tools, which SFS describes as Finance 4.0, to support the transition to smart, digitalised industrial processes, including software finance and transition finance or working capital solutions.
Digitalisation involves the widespread installation of sensors in the physical environment and the ability to rapidly enhance production economics through real-time performance data analysis, according to SFS.
Some pioneers are using digital controls and data analysis to improve a wide range of processes, including production capacity, job set-up and turnaround, uptime maximization, predictive maintenance, supply-chain logistics and just-in-time distribution.
There are even instances of manufacturers improving their competitive edge through mass customisation, a technique where tailored products are offered with much the same economies formerly associated with mass production
In its report, called The Digitalization Productivity Bonus: Sector Insights, SFS said: "For manufacturers that want to remain competitive in increasingly aggressive global markets, the move to increased automation and Industry 4.0 is not an option – it is a necessity.
"But seizing the competitive advantages of automation and digitalisation that lie at the heart of Industry 4.0 requires a substantial investment in new generation automated and digital platforms.
"Responsible business leaders will therefore need a solid business case that justifies this kind of significant investment to stakeholders and shareholders, one that paints a credible picture of the revenue, margin and growth benefits an investment in automation and digitalisation technology will bring."
Industry expects greater productivity
SFS interviewed a range of manufacturers and expert consultants for its research and the majority said that the ability to increase manufacturing productivity is a universal starting point for determining measurable value from digitalisation.
It said: "The ability to manufacture the same product volume at less cost or manufacture more products for little or no increase in cost, resonates with manufacturers considering digital technology investment as a competitive enabler. This was felt to be the case for both manufacturers taking their first steps into automation and those looking to install the latest sensor-based technology to fully digitalise their production environment."
The research revealed that by automating and digitalising their production systems, manufacturers were set to make production productivity gains equivalent to between 6.3% and 9.8% of their annual revenues.
In the global automotive industry, it is estimated that conversion to digitalised technology could deliver a 'digitalisation productivity bonus' of between $173.3 billion and $269.5 billion.
The industry is experiencing significant upheaval because of new regulations, market model shifts and changing consumer behaviour, including a transition to plug-in hybrid and electric vehicles, as world governments legislate for the use of zero-emission vehicles, with some cities already introducing tough emissions limits.
Manufacturers face intense competition, while consumers are reluctant to pay more for vehicles. New business models are also emerging, such as subscription services, while the introduction of autonomous vehicles could bring even more disruption, meaning automotive business models need reform, the SFS report said.
Therefore, the automotive production environment of the future must become much more flexible, moving from fixed-chain production to more flexible, modular production.
Digitalisation is set to drive change throughout the production process, including the greater use of data sharing between manufacturers and suppliers to drive efficiencies in inventory and supply management.
Plant and machinery will increasingly be able to self-monitor using digital sensor technology, to warn of impending problems before they cause disruption to the manufacturing process.
The SFS report said: "The competency to customise is expanding beyond just luxury brands to encompass many products. The ability to customise products to meet the specifics of each individual order while maintaining current mass- manufacturing efficiencies will become an increasingly important marketing factor for car brands. Evolving Industry 4.0 capabilities give auto manufacturers the ability to not only customize individual vehicles, but also shorten the delivery time for those vehicles."
With 3D-printed prototypes taking hours to fabricate rather than the weeks of machining associated with pre-digital methods, new models can be brought to market months earlier.
3D printing could also be used in spare parts manufacturing, ensuring the right parts are always available without having to carry inventory or manage complex and time-sensitive delivery operations.
Finance key to industrial change
In the report, a spokesman for a Russian automotive manufacturer said: "It's very important to have access to a widening range of financing techniques, especially to invest in the latest digital technology. The beauty of these financing techniques is that we can make regularly scheduled payments that fit with our cashflow needs."
At a German manufacturer, a spokesman added: "This year, we are investing in a major energy efficiency upgrade for all our factory sites which relies heavily on sensor-based Internet of Things technology. The financing is structured so that the monthly upgrade costs are exceeded by the energy savings."
Digitalisation is driving change and that requires new ways of financing that will continue to change the market.
As a senior executive at a French manufacturer said in the report: "If we want to be at the cutting edge and have a competitive edge, we need to replace parts of our plant on a regular basis. It's really important to have access to ways of financing these updates that properly fit our business."
Specialist finance tools driving automation and digitalisation
Pay to access/use equipment & technology finance
This enables the acquisition of a system or piece of equipment. Technology, service and maintenance are all included in a single agreement. Periods can be adjusted to match payments to the financial benefits gained. Master agreements can be established that help speed up future technology acquisitions.
Technology upgrade & update
Manufacturers want to access technology innovations as they appear (and digital innovation cycles are shortening. Finance can also offer options to upgrade during the financing period, whether to replace with a newer model or retrofit enhancements to the main technology platform.
Software finance
Most Industry 4.0 technology solutions involve both hardware and software. Because specialist financiers understand how the software is implemented and likely benefits in practice, they can understand the associated risks and include the software as an element in the total financing package.
Pay for outcomes
These arrangements base payments on the expected business benefits, or "outcomes", that automation or digitalisation technology makes possible. Actual financial savings, such as reduced electricity consumption, are used to subsidize or even totally fund monthly payments, making the technology cost neutral for the manufacturer.
Transition finance
Manufacturers do not want to start paying for their Industry 4.0 technology platform until it is installed, tested and operational. Finance 4.0 recognizes the challenges of transition and offers financing arrangements that defer payment for a new system until it is reliably up and running, eliminating any period of cost duplication for the manufacturer.
Working capital solutions
Finance can be optimized in more areas than technology acquisition. Improved competitiveness can lead to sudden growth, which exerts pressures on supplies, inventory and overall cash flow. Financing services – usually based on some form of invoice finance – are available to help manage the broader financial challenges that success through digitalisation brings.
Source: Siemens Financial Services