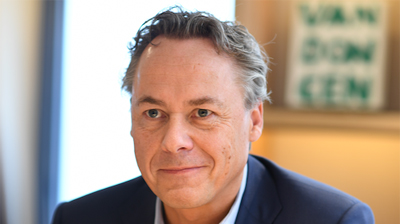 ING Group is to open its planned new Amsterdam campus to external fintechs and other partners in a bid to drive innovation and collaboration.
Ralph Hamers, the chief executive officer of ING Group, said the move was part of an essential commitment that included the need for its digital platforms to be open.
Speaking at Europe's largest fintech gathering, Money20/20, he revealed that the Amsterdam campus, due for completion in 2019, would bring together thousands of the best and brightest minds, ranging from ING employees to external companies and collaborators, to help "invent the future".
He said: "There's one particular characteristic of digital platforms that I think is especially relevant to being the bank of the future.
"They are open. Open to individual users and producers. Open to third-parties that provide complementary goods and services. Open to the competition."
Hamers, who made the conference's opening speech, argued that being open was critical to ING's success and not just because of the European Payment Service Directive (PSD2) regulation that requires banks to allow third-parties access to financial data, if customers request it.
He added: "If you want to be the 'go to' place for financial services, or for services that go beyond banking, how credible are you if you only offer your own products?
"If you truly want to empower customers, you have to provide them with the most relevant offering – even if some of the products and services are not your own."
ING doesn't have a monopoly on the best ideas for serving customers in a better way, Hamers said.
"To become a successful platform, you need to involve others from outside your own business, invest in them, and get them invested in what you are doing," he added. "So, we team up with fintechs and other start-ups, to combine our strengths."
Ralph said ING already had more than 150 fintech partnerships, where ING is collaborating to improve the customer experience.
Partnerships include recent alliances with two fintechs; FinCompare in Germany and with UK-based Funding Options in the Netherlands.
Both will provide SMEs with greater choice in financing their business.
ING Ventures has been launched to invest in fintechs that create a differentiating experience, including FinCompare.
The ING-owned open banking platform Yolt has also been expanded to France and Italy.
Hamers added: "[The campus] will be different from other corporate or university campuses because we will bring every element of the innovation cycle together in one place, creating a true ecosystem.
"We will create an area around our new building, with space for thousands of people, for universities, research partners, entrepreneurs, innovators and corporates from all sectors so that together we take new ideas and incubate them into truly empowering new services."
Banks are increasingly focusing on how to benefit from external innovation in developing new services.
Last year, Swedbank opened its doors to work with fintechs and developers by launching a new open banking platform.
Emma Heimonen, head of digital innovation at Swedbank, said: "Innovative capability and co-operation capacity combined with high delivery rates are crucial factors for us to succeed in the digital paradigm shift.
"Our ambition is to select good ideas that come from all the testing and co-innovation that goes on.
"This is a great opportunity for entrepreneurs that want to create fantastic customer value."
Innovation is also a focus of a new 'The Asset Finance Dragons' segment at the International Asset Finance Network conference on September 13.
Three industry innovators will be invited to pitch their disruptive ideas for the future of auto, fleet or equipment finance to a group of judges.
The Asset Finance Dragons competition closes August 15.