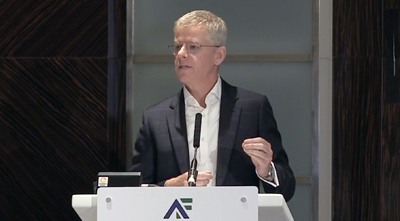 "Asset finance companies face a stark challenge as digital disruption changes the shape of the market."
This is the message from Jonathan Andrew, former global CEO commercial finance, Siemens Financial Services, who says changing customer expectations are reshaping the industry.
In a speech before he left his role, he argued that businesses are becoming less interested in financing assets; instead, they want to pay for outcomes.
For example, in industries such as healthcare there is less desire to pay for equipment such as an imaging machine. Instead, the focus is on paying for the positive results that are required from the equipment.
This could include funding and supporting diagnostics, imaging, processes, people and facilities, all provided as a bundled service.
Andrew said: "Somebody is taking a risk here to provide solutions, because the customer does not want to pay for the assets or the people or the diagnostics or the real estate that they're using. They just want to pay for the outcome."
His vision of the future for equipment finance is covered in more detail in the following video, provided courtesy of global equipment and auto finance software company White Clarke Group.
Andrew urged the industry to consider whether its 'iceberg is melting', adding: "You're starting to think about actually how can I pay for what I'm using in the services and solutions that are all bundled and wrapped together? As financiers we've got to think about how does that work in our old world of asset finance? Are the days of leasing really limited?
"How are we going to use that knowledge, those changes in our marketplace, [so] that we can create relevance for our businesses into the future?"