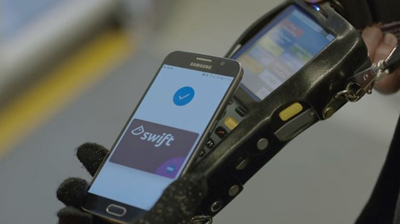 Drivers in a UK trial are to be offered thousands of pounds in 'mobility credits' in return for giving up their cars to help tackle congestion and pollution.
The scheme is part of a wide-ranging Future Mobility programme approved by West Midlands Combined Authority (WMCA) last week.
Transport for West Midlands (TfWM), part of the WMCA, aims to encourage drivers to give up their private vehicles and opt for on-demand mobility solutions, such as car sharing, public transport and electric vehicle hire schemes.
In the trial, journeys would be paid for using the authority's Swift travel payment card and app, which would be credited with funds by the authority.
Andy Street, mayor of the West Midlands, said: "The West Midlands leads the world in automotive research – we're hosting autonomous vehicle trials in Wolverhampton, Birmingham and Coventry, electric taxis are manufactured in Coventry, and the government is trusting us to blaze a trail for the UK as the first region to receive Future Mobility funding.
"We want to make it quick, easy and cheap for everyone to travel around the region by creating a range of reliable alternatives to private car ownership.
"People could leave their cars at home, or get rid of them altogether, and instead opt to take the Metro, train or bus to work, hire an electric vehicle to do their shopping, and share a taxi on a night out."
Other ideas being considered for the Future Mobility programme include improving live traffic information to help journey planning and extending trials for self-driving vehicles.
Those taking part in the mobility trial, based in Coventry, would use a smartphone app to help them decide how to travel, and identify how to maximise the value of their credits.
Laura Shoaf, managing director of TfWM, said: "Instead of owning a car, people could have the freedom to choose between sustainable travel options, including public transport, shared vehicles, walking or cycling, all within one package.
"That would remove the expense of owning and operating a private vehicle. It would also reduce the number of vehicles on the road, improving congestion, and allowing vehicles and road space to be used more efficiently."
Around 100 people are expected to take part in the initial trials over two to three years, with funds of around £3,000 a year per person ensuring they can surrender their car, so the local authority can carry out detailed monitoring of their travel patterns.
John Seddon, head of transport and innovation at Coventry City Council, which will initially operate the scheme, told The Times: "We see it as a variant of scrappage schemes of the past but rather than trading in an old car for a newer one, it is trading in the car for the ability to use other modes of transport."
The move is the latest mobility innovation from WMCA, which last year partnered with Helsinki-based technology company MaaS Global to launch its Whim multimodal transport service in the UK.
Whim provides a monthly subscription 'mobility as a service' platform, so customers can use their smartphone to pay a single fee to access any form of transport, ranging from bus and urban rail to car hire, taxis and cycle hire.
The authority's Swift smartcard has been integrated into the app to deliver the public transport element of the service, although WMCA has also developed its own mobility app.
Participating companies at Whim's launch included bus operator National Express West Midlands, taxi app Gett, car rental company Enterprise and cycle hire provider Nextbike.
MaaS global founder Sampo Hietanen said at the time: "We want to challenge the way people start to think about their journeys and let them see that vehicle ownership doesn't have to be the only way forward. On average, cars are parked up unused for about 96% of their lifetime."
Within one year of its launch in Helsinki, Finland, the company enabled more than 2.5 million trips using Whim, including 120,000 bike trips.
Whim has also launched in Antwerp, Belgium, with plans to expand to 12 new cities across the US, Europe and Asia during 2019.
Hietanen added: "Disruptive technology trends are changing the way we travel, and it is not sustainable or in the future even possible that everyone will own their own car.
"By making the Whim offering as wide as possible to eventually include all means of transport, we will offer people the ability to move freely when and wherever they like."