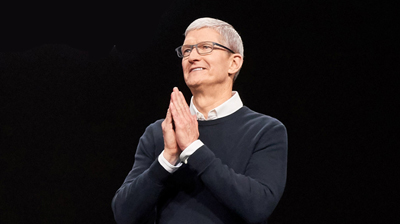 Global tech giant Apple aims to rewrite the rules of finance with the release of Apple Card, its first major move into banking services.
The launch of the card illustrates the disruptive power that tech giants can wield and highlights how their direct access to customers through technology, such as smartphones, can accelerate take-up.
While there is a physical titanium laser-cut card offered, the iPhone will be the real growth engine of the new credit card service, as it gives Apple direct access to a potential market of tens of millions of customers.
In the US, its home market where the service will launch this year, an estimated 100 million people have access to an iPhone. According to BMO Capital Markets, there are 715 million users globally.
In addition to its direct access to a massive customer base, Apple aims to drive change with the shape of its offer to the multi-billion dollar credit card market.
With no late, annual or international fees, Apple Card will also offer 2% daily cashback on all purchases made through its app, rising to 3% for purchases made at apple stores. Physical card purchases receive 1% cashback.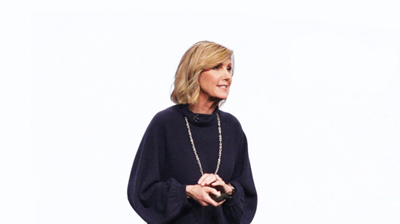 Jennifer Bailey (pictured), vice-president of Apple Pay, revealed that if customers miss a payment, they won't be charged a penalty.
Speaking at the launch of the service, Tim Cook, CEO of Apple (main picture), said historic demand for its iPhone-based mobile payment and digital wallet service Apple Pay indicated the potential future demand for Apple Card.
"Apple Pay is the simplest, most-secure and private way to pay and we are on target to surpass 10 billion transactions in 2019," he said.
"Retail acceptance of Apple Pay has already reached 70% in the US, and it's even higher in many other countries, like Canada (80%), the UK (85%), and in Australia we've achieved an amazing 99% acceptance. By the end of this year we expect that Apple Pay will be available in more than 40 countries."
Industry experts said the move would be watched closely by the market for its impact.
Megan Caywood, global head of digital strategy at Barclays and co-founder of Starling Bank, said: "I think the challenge has always been 'will the innovators get scale before the incumbents get innovation' but everyone has been terrified of the GAFAs (Google, Amazon, Facebook and Apple) entering this space. It shows that tech giants can revolutionise the way services are provided because they are digital from the ground up."
Bailey explained that customers can sign up with their iPhone and start using their digital card straight away.
She added: "We've made it really easy to get help with Apple Card. If you have a question just text us right from Messages. Everything from getting details of a transaction to letting us know your new address, it's as easy as messaging a friend."
The Apple Card app will use artificial intelligence to automatically organise and total purchases by category and link transactions to Apple Maps, so customers can see where their money was spent. Customers will also be shown trends to help manage their spending, while statements will provide a much clearer picture of which retailer the transaction was with.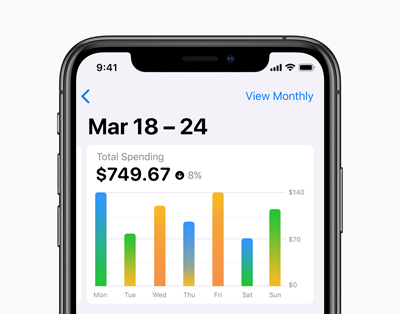 Bailey said: "Many of you might recognise seeing transactions [with] cryptic merchant names that are pretty hard to decipher. With Apple Card we use machine learning and Apple Maps to transform this mess into names and locations that you'll recognise."
Furthermore, the launch will change the conversation about how customer data is used as part of Apple's focus on customer privacy.
Apple says that it won't know what customers buy, where it is purchased or how much is paid, because all information is stored on the device, not a server, while data will never be shared or sold to third-parties for marketing or advertising.
Each payment is made using a one-time dynamic security code, which protects the card number from being used without the users' authorisation and every digital purchase is authenticated with Apple's Touch ID or Face ID technology.
David Brear, group chief executive officer of consultancy 11:FS, which creates digital financial services for finance companies, said the launch would concern major banks.
He added: "Apple have used their ability to control both the hardware and software in their handsets to do something very different moving forwards. They have the capability to compete in one swoop with not only credit card companies but challenger banks, incumbent banks, loyalty programmes and P2P payments companies."
The Apple Card launch is supported by partners MasterCard and Goldman Sachs, which is already innovating in digital banking with the launch and global expansion of online bank Marcus.
The iPhone maker's move into financial services reflects a changing focus as it looks to replace sliding revenue from sales of its core technology products. For example, iPhone sales fell in its most recent quarterly update, so the new strategy generates greater revenue from each device.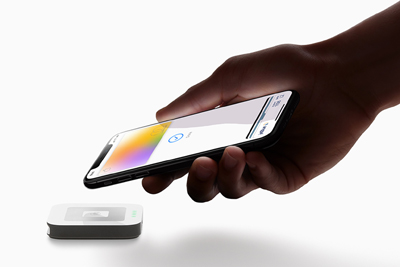 A human touch
Apple's disruptive move into financial services follows an Asset Finance International report last year that US-based online retail giant Amazon could become a major force in banking almost overnight, after research showed that millions of its customers would sign up to try a bank account if one was launched.
It has approximately 300 million active customers, including more than 100 million Prime members, who pay a fee for access to enhanced services from the retailer.
Research conducted by consultancy firm Bain & Co revealed that 65% of Prime members would sign up for a free Amazon bank account offering 2% cashback on purchases made through the retail giant. Among Amazon's non-Prime customers, 43% would sign up and even 37% of non-Amazon customers would open an account.
Amazon customers account for about 75% of the wealthiest households' assets in the US, worth more than $26 trillion.
Gerard du Toit, a partner with Bain & Company's financial services practice, who leads the company's banking sector in the Americas, said: "For retail banks, the key lesson is that their main competition consists of large technology firms such as Amazon that have upended entire industries.
"A traditional approach may be a way for banks to compete, saying that digital channels don't replace the need for a human touch, especially at critical episodes such as resolving a fraudulent transaction. They'll also need to innovate with their offerings, adding new features to compete with the new entrants. That's the recipe for banks to regain the customer advocacy they need to thrive during."
Amazon revealed last year that it was in talks with banks including J.P. Morgan Chase and Capital One to create a customer product based on a digital account.
Bain and Co points to the experience of Alibaba in China as proof that a technology firm can succeed quickly on a large scale in financial services.
Over just four years, an Alibaba service offering a repository for leftover cash from online spending became the largest money-market fund in the world, through its Ant Financial unit.
Ant Financial has since moved further into consumer credit, with at least $95 billion in outstanding loans reported last year.