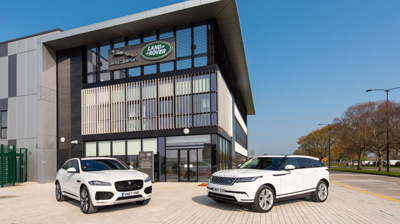 Drivers will earn rewards by agreeing for their cars to automatically provide weather and road condition reports under a new blockchain-powered service being developed by Jaguar Land Rover.
Using crytocurrency technology, vehicle owners earn credits by sharing data their cars are gathering, such as traffic congestion or potholes, which is then sold on to service providers including navigation companies or local authorities.
Drivers can then redeem credits for rewards with financial ecosystem partners, which could include coffee shops or local authorities to pay for road tolls, parking or electric vehicle charging.
The 'smart wallet' technology enables the car to automatically pay for services without the driver having to hand over a card or cash.
Jaguar Land Rover has partnered with the IOTA Foundation to develop the blockchain-powered payments system, which automatically verifies payments, so there are no transaction fees from service providers.
Drivers could also top-up their digital wallet using conventional payment methods.
The connected technology is being trialled at the new Jaguar Land Rover software engineering base in Shannon, Republic of Ireland, where engineers have already equipped several vehicles with a payment functionality, including the Jaguar F-Pace and Range Rover Velar.
The technology research forms part of Jaguar Land Rover's Destination Zero strategy which aims to achieve zero emissions, zero accidents and zero congestion.
Executives say that part of reaching this target is developing a shared economy where the vehicle plays an integral role as a data gatherer in the smart city of the future, sharing information such as live traffic updates.
Russell Vickers, Jaguar Land Rover software architect, said: "The connected car technologies we are developing will be transformative.
"In the future, an autonomous car could drive itself to a charging station, recharge and pay, while its owner could choose to participate in the sharing economy - earning rewards from sharing useful data such as warning other cars of traffic jams."
Experts at the innovative Shannon research facility are developing new technologies to support electrification and self-driving features on future Jaguar and Land Rover vehicles.
Supported by the Irish Development Agency, the Shannon team is also developing the next generation of electrical architecture as well as exploring advanced driver assistance systems for future vehicles.
Nick Rogers, executive director of product engineering, Jaguar Land Rover, said: "Our Shannon software development centre is advancing the use of cryptocurrency to make people's lives better, by allowing drivers to safely share data and make payments from their vehicle. Working with our engineering hub in the UK, the team in Shannon are pioneering and testing these sophisticated connected technologies that will help people to make the most of the time they spend in their car.
"Jaguar Land Rover is embracing autonomous, connected, electrified and shared mobility technology as we endeavour to make cars safer, cleaner and smarter for everybody."
Holger Köther, director of partnerships, IOTA Foundation, said: "Our distributed ledger technology is perfectly suited to enable machine-to-machine payments for smart charging, parking and tolls, in addition to creating opportunities for drivers to earn their own digital currency.
"We are excited to partner with Jaguar Land Rover in implementing its IOTA-powered car wallet, delivering a major convenience benefit for their customers worldwide."
Blockchain technology has the potential to revolutionise the way mobility solutions are delivered and financed, drastically reducing the cost of providing services, according to experts.
Last year, Chris Ballinger, chief executive officer and founder of the Mobility Open Blockchain Initiative, told delegates at the International Asset Finance Conference that vehicle-based services such as ride-hailing could have their finance processing costs slashed to a fraction of their current level using the technology and it could transform the type of payments being made.
MOBI is a global consortium that works with companies throughout the industry to establish common standards for the use of blockchain in the mobility industry.
It aims to build a worldwide network of cities, infrastructure providers, consumers, and producers of mobility services in order to accelerate the adoption of the technology.
He argued that blockchain will be the foundation of the vehicle-to-vehicle and vehicle-to-infrastructure economy, as it provides confidence that transactions are compliant and protected from fraud, so a third-party such as a bank doesn't need to be involved to verify and approve them.
Ballinger said: "You have very low frictional costs, so now you have the ability for cars to make transactions with other cars, with infrastructure and with roads. The biggest revolution of all is machine-to-machine payments and the machine-to-machine economy."
See more of Ballinger's vision for the future in this exclusive video, provided courtesy of global automotive, consumer and equipment finance software company White Clarke Group.