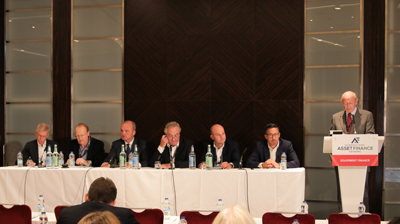 Finance industry leaders are taking insights from the FinTech sector as they adapt their companies to a changing business environment.
The competitive landscape of asset finance means that companies must embrace change to maintain differentiation and secure loyalty among customers, according to a leading panel of executives.
Panellists present at the IAFN Conference included Nathan Mollett, director of Metro Bank Asset Finance, who remarked: "In equipment finance right now, there just isn't enough innovation. In equipment finance I think increasingly there will be a bigger requirement to have on-demand models.
"We are seeing a bit of that in construction and maybe agriculture, but traditional equipment financiers will have to develop pay-as-you-use models to create that differentiation."
The importance of adapting to change was emphasised by Jonathan Andrew, former chief executive of commercial finance at Siemens Financial Services, who likened the process to building windmills rather than shelters in the face of harsh weather.
He added: "You can either resist change, go for shelter and bunker down and hope that it's going to blow over, or you can think about how you harness the wind of change. If we want to be innovators and industry leaders, it is how we engage with this change and not resist it."
You can receive a full briefing from the panel, which also included Jon Maycock, former managing director of Specialist Business Finance at Hampshire Trust Bank, Patrick Jelly, commercial director at Aldermore Asset Finance and Gavin Wraith-Carter, managing director at Hitachi Capital Business Finance, in the latest video courtesy of global automotive, consumer and equipment finance software company White Clarke Group.