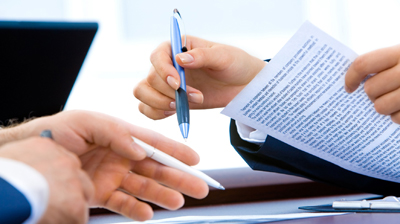 Electronic signatures can be used to sign formal legal contracts under English law, the Law Commission has confirmed, in a major boost for digitalisation in finance.
The Government's independent legal experts have published early conclusions which aim to sweep away any current uncertainty in the law, allowing businesses to speed up transactions by going fully digital.
In a new consultation, the commission has also laid out possible steps which could further boost business and help the UK capitalise on new technologies, including proposing that electronic signatures could be witnessed via a webcam or video link.
Legal experts are also suggesting the formation of a Government-backed industry working group to consider the on-going practical issues around the use of electronic signatures and how these can be improved.
Stephen Lewis, UK law commissioner, said: "Contract law in the UK is flexible, but some businesses are still unsure if electronic signatures would satisfy legal requirements.
"We can confirm that they do, potentially paving the way for much quicker transactions for businesses and consumers.
"And not only that, there's scope, with our proposals for webcam witnesses, to do even more to make signing formal documents more convenient, speed up transactions and get business booming."
Not all transactions have to comply with formal requirements, but documents can still be affected by legislation dating back to 1677.
The Statute of Frauds requires certain documents to be in writing and signed, but many people now expect transactions to be instant and often digital.
The EU-wide eIDAS regulation says that an electronic signature cannot be denied legal validity simply because it is electronic and that electronic signatures are admissible in evidence in legal proceedings.
But while the Electronic Communications Act 2000, a UK statute, mirrors the admissibility provision in eIDAS, it does not expressly provide for the validity of electronic signatures.
This lack of clarity in the law is discouraging businesses from executing documents electronically when it would be quicker and easier to do so, experts say.
This may disproportionately affect small businesses and start-ups, which do not have access to legal expertise in the same way as larger commercial businesses.
Under the published plans from the Law Commission, the uncertainty would be removed by providing clarity that electronic signatures are valid and will generally meet the statutory requirements where there is an intention to authenticate the document.
The Law Commission is a non-political independent body formed to keep all the law of England and Wales under review, and to recommend reform where it is needed.
Its latest work came out of the Law Commission's 13th Programme of Law Reform and complements work on smart contracts which is also currently ongoing.
The work focuses on two aspects of the electronic execution of documents.
Firstly, the use of electronic signatures to execute documents where there is a statutory requirement that a document must be 'signed'.
Secondly, the electronic execution of deeds, including the requirements of witnessing and attestation and delivery.
Recently, fintech company Dealflo revealed that more than one-third of all motor finance agreements executed in the UK now pass through its financial services automation platform.
The platform allows motor finance companies to digitise their end-to-end customer agreement process, including the use of e-signature technology.
It also collects evidence at each stage of the transaction to prove that agreements have been executed to fully compliant standards.
Among its recent customers is Santander Consumer, which signed up to the system to underpin its motor finance operations.
The deadline for providing responses to the Law Commission's Electronic Execution of Documents consultation is November 23, 2018.
For details and to respond to the consultation, visit https://www.lawcom.gov.uk/project/electronic-execution-of-documents/.