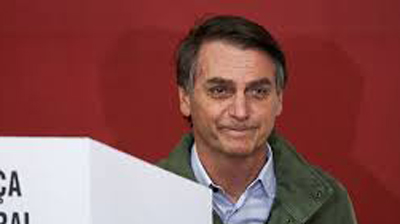 Brazil's capital markets are predicted to strengthen under new president-elect Jair Bolsonaro.
According to a new report looking at the financial impact of his election, Bolsonaro's team has adopted a series of free-market policies and is in favour of privatisation of state financial assets.
An Economist report, titled 'Order and progress? Brazil's post-electoral outlook', concludes these are "sensible policies to develop Brazil's capital markets."
It adds that in a bid to reduce political party appointments in Brazil's large number of state companies, Bolsonaro aims to give the Banco Central do Brasil (BCB, the central bank) formal independence.
The current president, Michel Temer, has been trying to approve such a measure in Congress, with no success so far, it says.
According to the report: "Mr Bolsonaro's administration would continue with the more market-oriented policies in place since 2016 under the outgoing Temer government. These have included dialling back BNDES [the Brazilian Development Bank] lending, which surged after the global financial crisis, and lowering the subsidised interest rates extended to selected companies."
The report noted Bolsonaro's former stance as a statist but added that he had adopted what it described as "more free-market views" on the advice of his economic advisor, Paulo Guides.
It speculated that such a move could have been politically tactical, but highlighted Guides' keenness to privatise major financial state assets.
Guedes has proposed a wide-ranging privatisation programme that could target many state enterprises at both federal and state levels.
Despite this, Banco do Brasil and Caixa (two large retail banks) are not expected to be privatised, because they already operate efficiently.
The Economist also reports that Bolsonaro has pledged to retain the core operations of Petrobras, the state oil company, but some of its refineries and distribution arms could be sold off.
If national content rules are relaxed, this could increase foreign investment in oil and gas and generate increase business demand in the private finance markets, including asset finance.
The report added that an early test of Bolsonaro's privatising credentials will be the part-privatisation of Eletrobras, the state-owned electricity company, which is due to start this year.
Order and progress? Brazil's post-electoral outlook https://www.eiu.com/public/topical_report.aspx?campaignid=BrazilElection