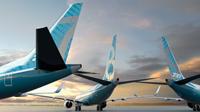 Tibet Financial Leasing has signed Memorandums of Understanding with Boeing and Airbus for new aircraft worth more than $3 billion as it launches its aviation leasing business.
Tibet Financial Leasing, which is registered in Lhasa Economic and Technological Development Zone, was established as the first financial leasing company in Tibet Autonomous Region in 2015, with approval from China Banking Regulatory Commission.
Under the memorandums, the Boeing order covers 20 737 MAX airplanes including the 737 MAX 10 and 737 MAX 8 airplanes. Airbus will supply 20 A321neos.
Wang Yanjun, president of Tibet Financial Leasing, said: "Our intention to purchase the 737 MAX reflects the strong customer feedback we have received.
"It is natural to start our aviation leasing business with the fastest-selling airplane in Boeing history.
"We are convinced by the technical innovations, as well as by the combination of comfort and economics provided by the Neo.
"Our goal is to expand our customer base nationwide and in the wider international region and to contribute to the development of civil aviation."
Ihssane Mounir, senior vice president, global sales and marketing, Boeing Commercial Airplanes, said: "As leasing companies are playing an increasingly important role in the world's aviation sector, we are proud to support Tibet Financial Leasing's take-off and future expansion."
John Leahy, chief operating officer customers, Airbus Commercial Aircraft, said: "Tibet Financial Leasing is our newest customer for the A320neo Family aircraft. Its airline customers will benefit from the unbeatable economics and in turn their passengers from the best in class cabin comfort for in all classes,"