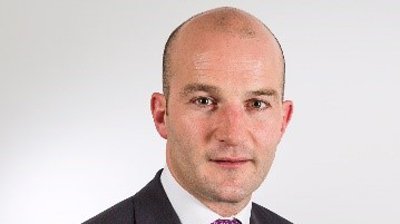 Hampshire Trust Bank's asset finance division has seen a significant transformation in the past two years, with major digitalisation projects, new employees and now the introduction of a new name - Specialist Business Finance.
The programme of innovation and change has reshaped the lender and empowered the business for growth to reflect the bank's broader ambitions for expansion, according to Specialist Business Finance managing director Jon Maycock.
He said: "We started with an evaluation of what we had, where we were trying to get to, and identifying what the gaps were in the business, ranging from people to technology. Then we identified how best to take action to fill those gaps."
Technology drives business growth
Technology has played a key part in the rejuvenation of Specialist Business Finance over the past two years.
"We needed to evaluate whether we had the right systems and processes in place for growth. Existing processes were quite labour intensive, so we set about finding the right providers from an IT perspective," Maycock said.
"We are broker-led but we didn't have anything for the brokers to use, such as an online portal or lease calculator calculator that could be used on desktop, smartphone or tablet.
"We moved in 2017 from everything being paper-based to the start of 2018 being close to a paperless office."
The transformation was driven by the introduction of the HTB Broker Portal, using Apak Group's Sprint system, which created a new web portal for brokers, backed by a smartphone app, to allow fast, efficient communication with the bank team while providing new functions, such as a finance calculator.
The system has received several updates since being introduced, including a function to automatically generate documentation to save time and improve accuracy.
The change means that after a proposal has been approved, brokers can generate individual deal documents or a suite of documentation automatically, rather than entering details manually.
In addition, introducers can view and confirm they have met any underwriting conditions, helping to streamline the process by answering any queries and ensuring faster pay out.
The investment has transformed service levels, according to Maycock, who added: "Brokers are really pleased with the portal and our customer base often gives feedback that it's the best in the market. Penetration levels are more than 85%, which compares favourably to the competition.
"Our process went from a two-day payout in the second half of 2017 down to an SLA of six hours and we have deals coming in at 1-2pm that are getting paid the same day."
Importance of broker relationships
For Specialist Business Finance, the investment is a key part of its partnerships with its panel of approximately 250 brokers, with a focus on close relationships and an understanding of what each partner requires.
Specialist Business Finance focuses on brokers that are experts in their field, with a detailed understanding of their marketplace and a commitment to good customer service.
Maycock said: "We have got very good relationships with our brokers. Their responsibilities in today's environment are greater than they have ever been and therefore we need to make sure we have got people that understand the marketplace and the environment they are operating in."
In turn, he is keen to ensure that brokers receive the support they need.
"We have always got to get better at everything we do," Maycock added. "The credit decisions that we make and why we arrive at a decision is really important for the brokers. One of the key aspects is just picking up the phone. So, our underwriters make outbound phone calls where it will help reach a successful conclusion. It focuses on the relationship.
"Brokers also say it's great having the new things, but the basics are really important; good service, quick response times and so on. We must focus on the basics even when launching new services to the market."
Developing employees
A key element of providing high levels of service and close relationships with brokers is the quality of internal staff and this is another area where Specialist Business Finance has focused.
He added: "The expertise applied by an individual in a market that's not homogenous is really critical to us."
Specialist Business Finance employs around 50 people, of whom around 40 are new to the business in the past two years.
This has introduced the required skills to enable the business to grow, including developing new niche market opportunities.
Maycock said: "We needed to invest in some more functional expertise rather than the collective experience that got the business started."
Among the new hires are Robert Still and Richard O'Brien, who both joined from Amicus Asset Finance to lead a new business line, Structured Asset Finance, which will focus predominantly on re-structuring businesses debts with a typical ticket size ranging from £250k to £2.5m.
Car specialist Chris Hiley-Payne has also joined to lead its specialist car finance division, offering expertise in funding classic, modern classic and rare sports cars to specialist dealers and end-user clients.
Maycock says the appointments reflect the entrepreneurial spirit he wants to encourage within the business that will help to generate growth.
He added: "The Hampshire Trust Bank asset base is roughly £1 billion, with slightly under one-third of that in asset finance. Because of the size of the bank and the agility that we have got, we want to create an entrepreneurial hub, where individuals who have that niche origination capability can come and create value in the bank and share the value that they create, as opposed to being absorbed into a big bank organisation. Something that is too small for some companies may be perfect for us."
Within its core finance business there have also been new appointments, with Hywel Prewett and Carey Hansford joining from Aldermore as head of block discounting and head of receivables respectively.
The development of future talent is also important, so the team have implemented a training programme focused on a mix of individual requirements and best practice.
In-house training ensures every employee has a foundation in asset finance, which is enhanced through bespoke training and mentoring workshops, where more experienced employees share their insight with other team members.
The business is also looking at candidates to take the Leasing Foundation's Diploma in Asset Finance and has introduced an apprenticeship scheme, which is currently searching for its next candidate.
The impact of the changes has been an acceleration in revenues for the asset finance division.
For the 2017 financial year, the bank's asset finance loan book increased to £154.1 million from £112.1 million in 2016, including a 51% increase in the block discounting loan book from £41.7 million to £62.9 million.
Pre-tax profits at Hampshire Trust Bank, led by new chief executive officer Matthew Wyles, nearly doubled to £9.9 million during 2017, with every area of the business reporting growth. The bank was 40th in last year's annual AF50 listing of the UK's largest auto and equipment finance companies, up from 50th the year before.
Preparing for future growth
The foundations are prepared for further rapid growth at Specialist Business Finance, with an ambition to double its customer base in areas such as block discounting, while also expanding its niche lending book.
The name change is an important part of this strategy, as it reflects the broad range of services available, with the business championing a "solutions-led approach" that allows for a disparate group of niche businesses to drive overall success.
He said: "We recognise we've got to operate at a balance between the pace of getting growth into the business and making sure we do things right, but the specialist element of what we do reflects the fact that we are not generalists. We are focusing on being really good in the sectors we choose to support."
A key strategic change being planned for 2019 is the introduction of e-signatures to speed up the approval process, while maintaining the personal relationships that are vital to the success of Specialist Business Finance.
Maycock added: "E-signature is a more secure and more robust process for document execution than wet signature. It provides a better end customer experience and while you can still spend time with a client, if they are a repeat customer that is known very well, it avoids having to drive to deliver some documents. It can be done electronically."
However, growth will be achieved against an increasingly uncertain economic background, with clarity on Brexit not expected until just days before the official deadline for the UK to leave the European Union.
Furthermore, Maycock raised concern of an abundance of liquidity and a "disconnect in the market" when it comes to pricing for risk.
He said: "It's not an easy trading environment and certainly the future is potentially less benign than it has been historically, which adds to the competitive pressure when you still have strong liquidity. We are not seeing evidence of others adjusting their appetite to where we feel it's an appropriate balance for pricing for risk."
Demand for asset finance will continue, however, as awareness of alternative funding options grows, and businesses look to renew assets and invest in growth.
Maycock says this emphasises the need for a strong proposition, employee excellence and great market insight, delivered through close partnerships with brokers in individual industry sectors.
He added: "We have to get growth in the business and drive revenues through our strategic plan, by delivering best-in-class service and a great proposition to our brokers.
"The overall ambition is to be the go-to lender in our chosen markets. We don't have to be in every market, but where we play, we want to play really well. We are focused on excellence through specialism and being the best at what we do."