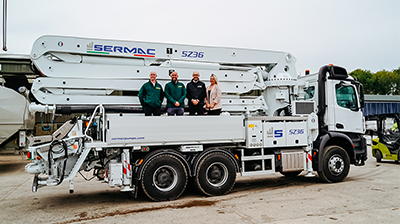 Milton Keynes-based asset finance brokerage, Approved Business Finance, has announced an exclusive finance partnership with concrete equipment specialists, Utranazz.
Approved Business Finance is now the trusted finance partner of Utranazz, providing a streamlined process that allows the concrete equipment specialists to finance equipment and vehicles for its customers within minutes, primarily focused on the plant sector.
Equipment finance options play a pivotal role in the concrete equipment industry by enabling businesses to acquire machinery without substantial upfront payments. These options ensure companies of all sizes can access state-of-the-art equipment, improve productivity and stay competitive. This is crucial for businesses to manage cash flow efficiently and sustainably grow.
Commenting on the partnership Daniel Wiseman, Sales Director at Utranazz, said: "Utranazz is excited to forge a strategic partnership with a proven leader in the finance industry, specifically within the plant sector. This close-knit collaboration promises to provide substantial benefits for our valued customers, granting them immediate access to our huge range of quality concrete equipment, accompanied by competitive finance solutions that can be effortlessly arranged within minutes."
Rory Dunn, Approved Finance Group Founder and Director, adds: "This strategic partnership with Utranazz is an exciting development for Approved Finance's construction division and demonstrates our flexibility in funding a variety of assets for the concrete and construction industries."
"I couldn't be more excited to work alongside a prominent supplier in the field of concrete equipment and specialist machinery. This marks a significant step in enabling construction companies to access the equipment and funding they need to thrive in today's competitive market."