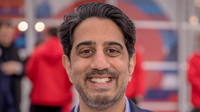 Volvo Cars has launched a new fund aimed at investing in high-potential technology start-ups around the globe.
The aim of the Volvo Cars Tech Fund is to invest in strategic technology trends that are transforming the automotive industry, such as artificial intelligence, electrification, autonomous driving and digital mobility services.
The Tech Fund's first strategic investment is a seed round investment into a California-based technology firm developing advanced sensors.
Among the benefits for companies that receive investment is potential access to Volvo Cars' global network of automotive and technology partners.
Zaki Fasihuddin, currently vice-president of strategic partnerships in the Volvo Cars Silicon Valley Technology Center, has been appointed CEO of the fund.
He said: "We seek to invest in companies that can provide us with strategic access to new technologies, capabilities and talent.
"By supporting promising young firms at the forefront of technological development and providing them with both capital and strategic value, we aim to strengthen our leading role in the industry's technological transformation."
The launch of the Volvo Cars Tech Fund is part of a continued push for innovation by Volvo Cars and accelerates the company's digital transformation.
Last year, Volvo Cars established a digital organisation in Silicon Valley. It also acquired the assets and key personnel of Luxe, a US-based premium valet and concierge service, which provided a significant boost to Volvo Cars' development of digital services.
Mats Moberg, board member for the Tech Fund and vice-president for R&D at Volvo Cars, said: "We work closely with promising technologies, and when we see value creation potential for us as a user, we can now also invest to help accelerate the venture."
The investment comes as manufacturers invest billions of dollars in new technologies that could change the shape of the new car market, including autonomous vehicles, connected cars and ride-sharing services.
In 2016, Ford announced it was investing in or collaborating with four start-ups to enhance its autonomous vehicle development, doubling its Silicon Valley team and more than doubling its Palo Alto campus.
Speaking at the time, Mark Fields, Ford president and CEO, said: "The next decade will be defined by automation of the automobile, and we see autonomous vehicles as having as significant an impact on society as Ford's moving assembly line did 100 years ago.
"We're dedicated to putting on the road an autonomous vehicle that can improve safety and solve social and environmental challenges for millions of people – not just those who can afford luxury vehicles."
However, recent incidents have highlighted the difficulty in bringing truly autonomous vehicles to market.
Tesla's electric cars have been capable of operating in semi-autonomous mode for several years, but there have been a number of crashes involving its vehicles, including fatalities.
Uber recently suspended testing of its autonomous vehicles after a fatal incident involving a pedestrian pushing a bicycle across a road in the dark.
Police have released footage from the moments before the fatal crash involving one of Uber's self-driving cars in Tempe, Arizona.
In a statement an Uber representative said: "Our cars remain grounded, and we're assisting local, state, and federal authorities in any way we can."
Police have said the vehicle did not meaningfully slow before the evening crash. It is not currently clear whether its sensors picked up the victim, even though the self-driving technology is designed to function in the dark.
However, speaking to the San Francisco Chronicle, local police chief Sylvia Moir said: "I suspect, preliminarily, it appears that the Uber [car] would likely not be at fault in this accident."