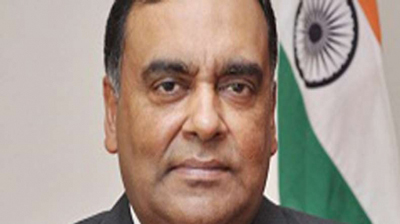 The Indian High Commission has made the City of London Corporation a formal partner for its Access India Programme.
Access India was launched last year with the aim of supporting investments in the country by UK small to medium-sized businesses.
The City of London Corporation, the governing body of the Square Mile, and High Commission of India (HCI) have already developed a long-term working relationship, particularly in the area of fintech, but today's announcement formally cements their partnership.
The corporation has run a representative office in Mumbai since 2007, and works with around 10 Indian financial firms with a presence in London.
India's High Commissioner to the UK, Yashvardhan Sinha, said: "I welcome the City of London Corporation as a programme partner for the Access India Programme.
"The sharing of domain knowledge and expertise in financial services and fintech will greatly benefit the programme as well as facilitate UK companies in these sectors to invest in India.
"I hope that our partnership with the City of London will serve as a platform for encouraging companies in the UK to tap the opportunities available in world's fastest growing large economy. "
The announcement comes as business leaders from India and across the world prepare to arrive in London for the Commonwealth Business Forum (CBF).
Fintech is a key area of focus at this year's CBF, with 800 CEOs and board members of leading global companies, including several from India, visiting London on April 16-17 to attend more than 40 sessions on key economic and business themes.
Catherine McGuinness, policy chairman at the City of London Corporation, said: "This partnership is the latest chapter in a long and fruitful relationship between the City of London Corporation and High Commission of India.
"The UK is a world leader in fintech and by some estimates home to around 1,600 fintech companies.
"With cash accounting for most transactions in India, and around one-fifth of the population still unbanked, I look forward to seeing how UK expertise can help accelerate the digital revolution."
As a partner of the Access India Programme, City of London Corporation will work closely with the High Commission on other areas in addition to fintech, including cooperation on bankruptcy and non-performing assets (NPAs).
The UK is looking at increasing services trade with countries outside the EU as Brexit approaches.
The partnership will include delegations between the two countries and the provision of advice and support for companies looking to expand in India.