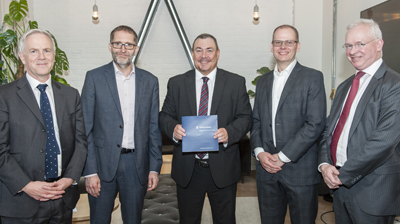 A cloud-based UK challenger bank has revealed the critical role of partners including Microsoft in taking it from 'birth to banking' in less than six months.
Redwood Bank partnered with Microsoft to deliver an IT system that was completely internet-based from the moment it opened its doors in August 2017.
Redwood's chief executive officer and co-founder, Gary Wilkinson, said: "We are very proud that Redwood Bank was not only 'born in the cloud', but also achieved one of the fastest 'licence-to-launches' in UK banking history.
"Microsoft and our other expert partners have given us access to a secure, powerful digital infrastructure which would not be feasible to build in-house."
Redwood sought cloud service providers who offered established Software-as-a-Service and Infrastructure-as-a-Service and who had successfully implemented these within financial institutions regulated by the Prudential Regulation Authority and Financial Conduct Authority.
It chose the Savings and Commercial Lending platform offered by London-based firm, DPR Consulting and focused on Microsoft cloud services.
Michael Harriman, director of information technology at Redwood Bank, said: "A real advantage in using the Microsoft Cloud with the support of our technology partners was the ability to adopt an integrated set of cloud-based tools, which are deployed within a single secure environment. This enabled us to establish a secure, modern digital banking platform within regulator guidelines in under six months."
DPR is a Microsoft Gold Partner providing origination and servicing solutions to banks, building societies and specialist lenders. It worked with specialist infrastructure partner CSI on the implementation.
Cloud-based ancillary systems support the core banking platform, covering areas including a payments gateway, identity and credit controls, regulatory reporting, financial accounting, compliance, human resources and payroll.
Throughout the banking licence authorisation period and launch, the FCA and Deloitte, the bank's internal auditors, reviewed the implementation of systems and processes in accordance with official guidelines.
The Microsoft collaboration also ensured the bank's data management processes were compliant with the EU's General Data Protection Regulation (GDPR), which comes into force in May.
At an event held in central London and attended by IT experts involved in the project, the bank's leadership team celebrated the successful collaboration with Microsoft and the bank's other partners.
The celebration event included presentations from Wilkinson, Harriman, Dave Patel, group CEO of DPR and Richard Peers, director of financial services at Microsoft.
The bank has provided an overview of its cloud-based launch in a new whitepaper, called Redwood Bank: Born in the Cloud.
Wilkinson said: "We are proud of our achievements in building and launching our new bank, with a small internal team and within challenging timescales, so we think it would be beneficial to our customers, partners, colleagues and other stakeholders, to share our story."
Peers added: "The cloud is enabling a wave of innovation, empowering financial institutions to create new value chains that cross business and industry boundaries.
"You can turn data into insight, transform ideas into action, and turn change into opportunity. This is exactly what Redwood Bank has delivered and we applaud their pioneering approach and adoption of this technology."
The bank is owned by private investors and by Warrington Borough Council, a UK local authority. It is believed that this is the first time that a UK local authority has made such a direct investment in a licensed bank.
The bank operates from its headquarters in Letchworth, Hertfordshire and from its regional office in Warrington, Cheshire.
Redwood Bank's Cloud solution
The key components of Redwood Bank's customer journeys include online deposit and loan application systems, as well as online account management with integrated communications and security.
To supplement the DPR core banking platform, based in Microsoft Azure, Redwood uses Microsoft Office 365 to provide business support and Microsoft Intune to manage secure corporate and secure personal devices in a mobile and home working environment.
Microsoft Sharepoint allows non-technical end-users to manage documents and interactions between the operations, compliance, risk and credit underwriting teams.
The cloud IT infrastructure implemented by Redwood Bank is based on:
Microsoft Azure Cloud hosted:
Core Banking origination and servicing
Integrated marketing website including:

Deposits applications
Broker management portal
'Self-service' account management
Ancillary systems
Microsoft Office 365 deployed for end-user functions:
Exchange Online
SharePoint / One Drive
Skype for Business
Microsoft Teams
Microsoft Enterprise Mobility and Security
Azure Active Directory Premium:
Secure Single Sign On
Multi Factor Authentication
Microsoft Intune:
Mobile and home working
Device management
Securing personal devices
Azure Information Protection Premium:
Bitlocker encryption
Shared file protection
Microsoft Advanced Threat Analytics
Azure AD Cloud based identity management
Microsoft Dynamics 365:
Customer Relationship Management
Photo: L-R Richard Peers, director of global financial services, Microsoft; Mark Hammond, sales and marketing director, DPR; Gary Wilkinson, CEO, Redwood Bank; Andrew Hall, sales and marketing director, CSI, Michael Harriman, IT Director, Redwood Bank