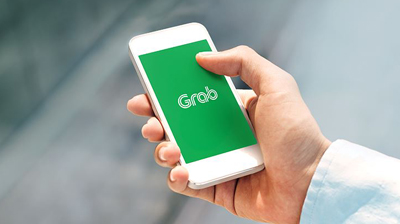 The financial and technological landscape for Singapore-based ride-hailing company Grab has altered dramatically since its inception six years ago.
Grab has expanded its business model beyond simply matching drivers and customers via its app, to offer services in several new areas, as it builds a lifestyle platform around its brand.
Its app-based ecosystem spreads from ride-hailing to bike sharing and food delivery, serving a community of millions of users.
Financial services has been the next critical step with the launch of GrabPay, its mobile wallet service that is expanding the reach of its brand.
GrabPay recently rolled out in the Philippines, bringing to five the number of countries in the region where its full suite of financial services is available.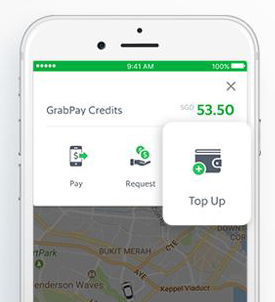 Like elsewhere, GrabPay users in the Philippines will be able to top-up prepaid digital wallets, which can be used in-app for mobility services and to pay for items with a growing range of partners that accept its mobile payment QR code, such as restaurants, shops and merchants.
To promote use of its payment app, there is a loyalty programme, GrabRewards, operated in conjunction with local corporate partners.
If the company can continue building its ecosystem in this way, it may eventually have a radical impact on the way people use financial services in future, especially if it's successful in breaking into the unbanked market across the region.
Expansion into financial services
It has launched Grab Financial Services Asia, a joint venture between Grab and Credit Saison, one of Japan's largest financial consumer lending companies, to provide loans and lending services to millions of unbanked and underbanked consumers, microentrepreneurs and small businesses across south-east Asia.
Grab Financial Services Asia taps into Grab's huge cache of customer data gathered through its app services, which process more than one billion transactions annually, to provide a sophisticated, alternative resource for measuring credit ratings.
By analysing behaviour and transaction data from the app, such as transport movements, location, and GrabPay transaction data, the company can offer alternative data points to assess credit worthiness.
Grab Financial Services Asia will initially focus on supporting Grab drivers, agents and merchants, in areas such as working capital loans, financing for smartphones and vehicle finance.
To expand its reach even further, Grab recently announced GrabPlatform, an open-API-based strategy to create an 'everyday superapp' with a host of services integrated into Grab.
Already, Grab is used approximately 6 million times per day and has grown to 100 million mobile device users. The data it gathers will prove invaluable as it looks to expand its financial services arm.
In the span of five months (Jan-May 2018), Grab Financial's total payment volume has more than doubled, amid claims it is now the leading mobile payments platform in south-east Asia.
Cheerleaders for the Grab business model attribute the company's success to smartphone adoption in the region and the company's use of a variety of marketing channels, including digital ad campaigns, YouTube videos and the high-profile branding of its cars.
Its position has also been strengthened by its success against ride-hailing rival Uber in the region, which has seen the latter offloading its south-east Asian operations to Grab in exchange for a 27% stake.
Investors backing strong growth
Getting to this point has required substantial capital; securing debt facilities of $700 million (in October 2017) marked a clear statement of intent, not only of its corporate ambitions, but also confidence on the part of global and regional banks in the Grab business model. The facility was a record for a south-east Asian start-up when it was announced.
Another tranche of $1 billion followed in June this year through an investment by Toyota and in August 2018 Grab confirmed it had secured a further $1 billion in funding as it looks to aggressively expand in Indonesia, south-east Asia's biggest economy.
Participants in the latest round of funding included China's Ping An Capital, global asset manager OppenheimerFunds and Vulcan Capital, the investment vehicle of Microsoft Corp co-founder Paul Allen.
Earlier investors include Chinese ride-hailing firm Didi Chuxing and Japan's SoftBank Group.
The new funds will be used to expand the company's app-enabled services, as well as a major investment in Indonesia as it looks to go into competition there with local mobility provider Go-Jek, which in turn has ambitions of its own in Singapore, Thailand and Vietnam through a $500 million expansion programme.
With ride-hailing services in south-east Asia expected to surge four-fold to $20.1 billion in gross merchandise value by 2025, there is a lot to play for.
Growth in demand for app-based mobility services tends to be exponential, so businesses must deliver fleet growth to match.
For example, JustGrab, through which users can book a taxi or private hire vehicle on the same platform for a fixed fare, launched in Singapore in March 2017 and had more than five million bookings in its first month.
Grab recently crossed 2 billion rides. It took 5 years and 4 months to reach its first 1 billion rides, but less than 9 months to hit the next billion.
To help grow its driver network, the business has its own leasing programme, with ambitions to have the largest car rental fleet in south-east Asia by the end of this year.
There are already more than 1.8 million drivers in its regional network, stretching across more than 200 cities, so it is already operating from a position of strength.
To achieve rapid growth, it intends to make more cars available for rent under favourable terms and services for drivers.
So, the argument goes, if you don't own a car you can rent one on favourable terms and then join Grab's network; the theory being you'll make enough money through driving to recover your outlays and make a profit.
Grab's foray into Indonesia, where Go-Jek holds court, is likely to become a tough battle when it comes to pricing.
How it fares will ultimately be determined by how competitive it can be when it comes to rental terms and services for potential driver partners. The more drivers it can recruit, the more likely consumers will be to use its services.
Uber merger offers opportunities and challenges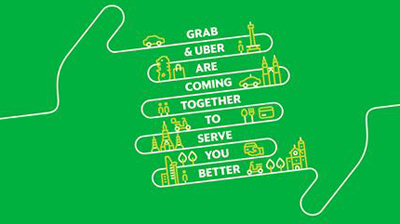 In Singapore, the merger of Grab and Uber's south-east Asian operations in March 2018 may yet prove to be a game changer for its future growth, even though the deal has since run into trouble with the local competition authorities.
The Competition and Consumers Commission of Singapore has ruled since the merger that the deal has substantially lessened competition.
It also concluded that fares in the city state effectively rose by between 10-15% post-merger and, while it didn't reject the deal, it has ordered Grab to unwind exclusive arrangements with taxi operators, car rental partners and drivers because they prevented the expansion of potential rivals.
Investor confidence appears to be unshaken, however, given that this investigation was announced well in advance of recent funding rounds, including a $500 million asset-backed syndicated facility (part of the original $700 million package) arranged by HSBC that ended up being 2.5 times oversubscribed.
SoftBank is reportedly now in advanced talks to inject a further $500 million into Grab, as it inspires confidence having already seen off one of its major rivals and emerged relatively unscathed from a competition probe in its home market.
Moreover, Grab has received total funding to date (including SoftBank commitments) of $6 billion and was valued at $11 billion at the time of its last funding earlier this year.
Given Grab's expansion into various verticals, from food deliveries to financial services, as it repositions itself as a major consumer technology group in a fast-growing region of more than 600 million consumers, this valuation seems justified.
Ride-hailing companies attract attention of carmakers
The rapid growth in fleet demand from the new generation of ride-hailing companies is capturing the attention of carmakers.
In June this year, Toyota Motor Corp agreed to invest $1 billion in Grab - the biggest investment by a carmaker in a ride-hailing car firm to date.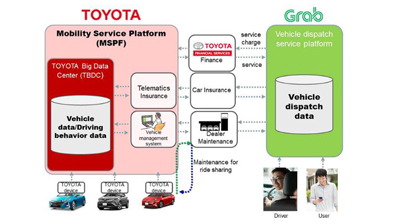 In addition to immediate potential sales to drivers, Toyota's investment has a longer-term business logic to it, given car manufacturers and technology companies see a future where autonomous robo-taxis will lessen the need for individual car ownership or even a driver behind the wheel.
While automakers have the knowledge to build the cars and the factories to do it, they don't have access to the software engineers that are readily found in China or California, for example.
Toyota and other major auto manufacturers also need to strengthen their tech expertise as companies such as Tesla and Waymo threaten to redefine the auto industry in their own way.
Against this backdrop, Toyota has also deepened its relationship with Uber; its $500 million investment represents a major commitment to their partnership aimed at designing and producing autonomous vehicles for the mass market.
Elsewhere, SoftBank has invested $2.25 billion in GM's Cruise autonomous-car unit.
GM is itself investing $1.1 billion and also has a 9% stake in ride-hailing service Lyft.
Most recently, Honda announced a $2.75 billion investment in Cruise, valuing the autonomous car business at $15 billion.
GM is also thought to be considering opportunities further afield with companies part-funded by SoftBank, including Uber, India's Ola and China's Didi, as well as Grab.
Ford, meanwhile has already said it intends to collaborate with San Francisco-based Lyft (which logs 1 million-plus rides daily) to deploy large numbers of Ford self-driving vehicles on Lyft's network by 2021.
Toyota and SoftBank are also launching a joint venture of their own, due to come into effect in April 2019.
Monet Technologies - with an ownership split of 50.25% SoftBank, 49.75% Toyota - will combine autonomous driving and ride-hailing with on-demand retail shopping delivered to people's doorsteps by vehicles such as Toyota's e-Palette, a dedicated battery electric vehicle for mobility services that can be used for various purposes, including mobility, logistics, and sales.
Initially, Monet intends rolling out ride-hailing services in Japan, using regional partnerships and corporate shuttles in line with user demand.
Longer-term, once regulatory hurdles have been overcome, Monet intends to launch Autono-MaaS (autonomous mobility as a service) businesses using e-Palette for deliveries including food and medical care.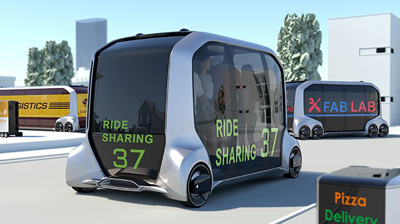 While Japan will be the initial focus of the joint venture, it is expected go global eventually, although the required investment is likely to be far higher than the 2 billion yen ($17.5 million) invested to date, which is set to increase to 10 billion yen ($87.7 million).
* additional reporting by John Maslen