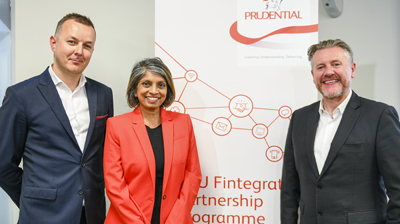 Prudential Singapore has launched the third edition of its PRU Fintegrate innovation programme to develop new solutions for the insurance industry.
As part of the initiative, Prudential will invest alongside its chosen scale-up partners to run pilot projects and develop implementation and deployment plans.
At the launch of the 2019 programme, taking place in London for the first time, the selected technology partners from PRU Fintegrate 2018 were showcased; Ailleron LiveBank LiveBank, a customer engagement platform; Knowtions Research, a health analytics solution; and DataRobot, an automated machine learning platform.
They were selected from 30 entrants to develop their innovations further in partnership with the insurance company.
Prudential Singapore has signed a Memorandum of Understanding with the companies for the deployment of their solutions in its territories.
PRU Fintegrate is open to technology providers in finance, insurance, health and medicine that meet the criteria for participation.
Applications for the 2019 programme are open until April 1, with a shortlist of scale-ups announced by May, followed by a demonstration day in July.
Kalai Natarajan, head of strategic engagements for Prudential Singapore, said: "We believe in innovating with technology companies from around the world and not just in Asia. Here in London, a vibrant innovation hub, we want to find like-minded partners and bring them to Singapore where they can work with our local teams to co-create solutions that will help us chart the future of insurance.
"New solutions that are created for the Singapore business can be potentially deployed across our 12 life insurance markets in Asia to benefit our 15 million customers in the region."
Roughly one-third of the population of Singapore are Prudential customers.
For the 2019 programme, Prudential Singapore is expanding its outlook from insurance to the issue of wellbeing, so it is also seeking innovations in preventative healthcare that help customers live healthier, longer lives.
As part of its fintech development programme, Prudential Singapore has rolled out innovations including the recent introduction of instant underwriting at the point of sale, so customers can receive an instant decision on their cover electronically.
It is also rolling out a partnership with AI-powered symptom checker and health risk assessment tool Babylon.
Wilf Blackburn, CEO of Prudential Singapore, said: "We are committed to innovating and using technology to help everyone live well. We hope to work with a range of partners to make insurance more accessible, simpler and make healthy living for everyone as easy as possible."
More information on PRU Fintegrate.
* Pictured (l-r): Piotr Skrabski, general manager, Ailleron LiveBank, Kalai Natarajan, head of strategic engagements and Wilf Blackburn, CEO, Prudential Singapore at the launch of the third edition of the programme.