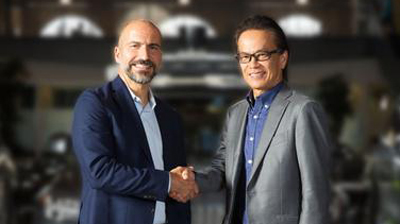 Toyota Motor Corporation (TMC) and ride-hailing giant Uber have announced a major new collaboration in a bid to encourage the mass adoption of autonomous vehicle technology.
The companies have agreed to expand their collaboration with the aim of advancing and bringing to market 'autonomous ride-sharing as a mobility service' at scale.
Technology from each company will be integrated into purpose-built Toyota vehicles to be deployed on Uber's ride-sharing network.
Uber aims to work with third-party fleet operators on its network to roll-out mass-produced autonomous vehicles.
Separately, Toyota is investing $500 million in Uber.
The companies said the partnership was critical to introducing self-driving technology at scale.
Shigeki Tomoyama, executive vice-president, TMC, and president, Toyota Connected Company (pictured right), said: "Combining efforts with Uber, one of the predominant global ride-sharing and automated driving R&D companies, could further advance future mobility.
"This agreement and investment marks an important milestone in our transformation to a mobility company as we help provide a path for safe and secure expansion of mobility services like ride-sharing that includes Toyota vehicles and technologies."
The initial "Autono-MaaS" (autonomous-mobility as a service) fleet will be based on Toyota's Sienna minivan platform.
Uber's Autonomous Driving System and the Toyota Guardian automated safety support system will both be integrated into the Autono-MaaS vehicles. Toyota will also introduce its mobility services platform for connected vehicles.
Pilot-scale deployments will begin on the Uber ride-sharing network in 2021.
Dara Khosrowshahi, Uber's CEO (pictured left), said: "The deal is the first of its kind for Uber, and signals our commitment to bringing world-class technologies to the Uber network.
"Our goal is to deploy the world's safest self-driving cars on the Uber network, and this agreement is another significant step towards making that a reality."
The move is the latest in a global race to develop autonomous vehicle systems that can be operated in the real-world.
There is an increasing focus on using the technology in ride-hailing in a bid to achieve the economies of scale needed to justify the massive investment required in developing the technology.
To-date Uber has provided more than 5 billion trips in human-driven vehicles through its app, delivered by fleet partners, but its trials of autonomous technology have been disrupted by a recent fatality, which led to it postponing testing and development in Arizona.
Other manufacturers are also investing heavily in an autonomous future. Last year, Ford entered into a partnership with ride-hailing specialist Lyft, with the aim of taking self-driving cars mainstream.
The partnership will be exploring how Ford can create a technology platform so that it can easily connect with a partner's platform (such as Lyft's) to effectively dispatch a self-driving vehicle.
It will also look at which cities the pair should work with to deliver a self-driving vehicle service, and assess what kind of infrastructure will be necessary to service and maintain a fleet of self-driving vehicles to ensure they are available whenever a consumer needs one.
Ford has already announced plans to launch autonomous cars by 2021 and has identified commercial fleet operations, such as ride-hailing and taxi fleets, as a priority for the first mass application of the technology.
Other automotive links with companies developing new mobility services include Waymo, which has signed deals with Jaguar and Land Rover.