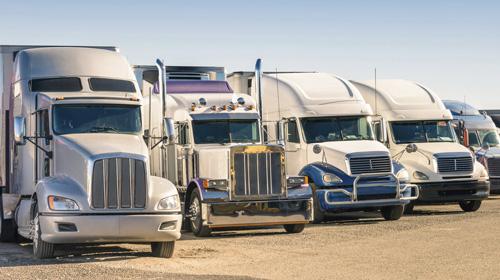 The commercial fleet and truck leasing sectors in the US are likely to perform well in 2018, despite some broader sector obstacles, according to a report from Fitch Ratings.
Fitch says its five rated lessors were demonstrating positive attributes including solid franchises and strong asset quality performance against low losses.
Although falling used vehicle values will continue to pressure earnings over the next several months, Fitch director Johann Juan said: "Still, any potential impact on earnings will be partially mitigated as lessors continue to generate end-of-contract disposal gains due to well-managed exposure to residual value risk."
Pressures continue in the market for Class 8 trucks, where there is a substantial glut.
Negative supply and demand dynamics in the freight market contributed to overcapacity of roughly 125% above demand in North America last year.
Truck lessors have seen demand for commercial trucks and tractor rentals weaken due to transportation companies moving less freight tonnage over the past two years.
Juan said: "Truck lessors are trimming rental tractor capacity and disposing of units at lower prices in the wholesale channel in an effort to reduce the carrying costs of excess fleet."
What will help matters for truck lessors is the sector's less cyclical nature compared to its large equipment lessor counterparts, since they focus more on essential services and benefit from a shorter order-to-delivery cycle.
Fleet lessors in the US are also less exposed to fluctuations in used vehicle values as leases are traditionally open-ended, where residual value risk is borne by the lessees.