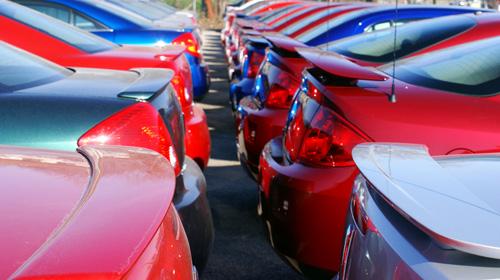 True fleet car registrations grew in four out of five of the biggest markets in Europe last year, with the UK the only exception as sales struggled amid the ongoing uncertainties of Brexit.
By contrast, true fleet sales in France, Germany, Italy and Spain reached record levels, according to figures from European fleet market data and automotive intelligence solutions provider Dataforce.
Its analysis relates to end-user fleet sales, excluding rental and OEM self-registrations, for companies of all sizes, covering businesses that operate just a single vehicle through to Europe's largest company car fleets.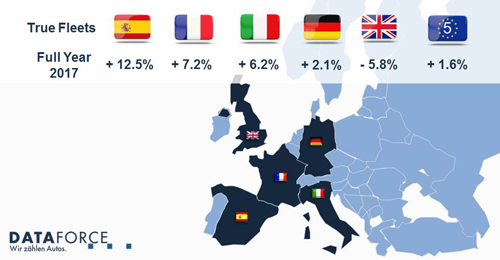 The expanding markets continued to prosper despite events which could have altered these outcomes, with Spain impacted by the Catalan independence vote, France holding its key presidential election, Italy undergoing political turmoil and introducing company car tax changes, while the impact of Dieselgate and elections affected Germany.
In addition to Brexit, the UK market may have been affected by changes to vehicle taxation in April last year, which disrupted sales for several months.
Together, the EU-5 account for around three-quarters of all car registrations in Europe.
For the whole of Europe, Volkswagen has the largest true fleet market share, with nearly 13% of sales, followed by Mercedes-Benz, BMW, Audi, Renault, Ford, Skoda, Peugeot, Opel and Toyota.
The fastest growing true fleet market was Poland at 17.4%, while the UK had the fastest decline at 5.8%
France
The true fleet market was especially buoyant in France and growth of 7.2% saw it reach an all-time record, with French manufacturers dominating the market. Renault topped the sales charts, followed by Peugeot and Citroen in third, while Germany manufacturers Volkswagen, BMW, Audi and Mercedes took the next four positions.
Nils Wehner, from Dataforce, said smaller fleet brands also performed well in 2017, particularly Alfa Romeo and Suzuki, which both almost doubled their registrations.
He said Alfa Romeo gained ground due to the new Stelvio and Giulia while Suzuki's plan to place a stronger focus toward fleet customers seemed to succeed with demand for almost all models surging compared to 2016.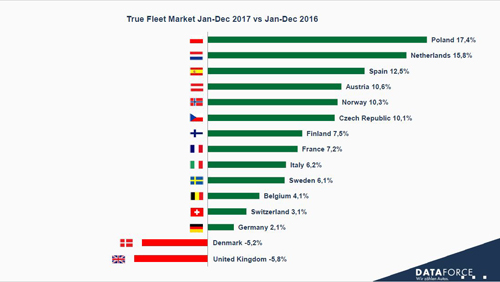 Germany
The true fleet market in Germany grew 2.1% last year, but this was enough to take it to an all-time record, according to Dataforce's Michael Gergen.
This is the fourth year of robust growth for the market and there are indications it could overtake the UK as the largest fleet market in Europe during 2018.
Volkswagen was the largest true fleet supplier last year, followed by Audi and Mercedes-Benz, with BMW in fourth, followed by Ford, Skoda, Opel, Renault, SEAT and Peugeot.
Italy
The Italian true fleet market grew 6.2% last year, despite the end of "Super-Ammortamento" for most company cars.
Fiat was the best-selling true fleet manufacturer, with Volkswagen second and Ford third, thanks to strong demand for Fiesta, Ecosport and Kuga.
Dataforce's Gabriel Juhas said that while Italy registered 160,000 cars powered by compressed natural gas and liquefied petroleum gas, the main fleet fuel continued to be diesel.
Despite this, demand for hybrids nearly doubled, although registrations account for a very small part of the market.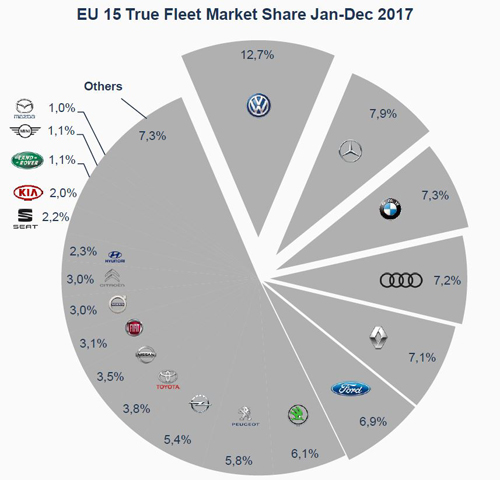 Source: Dataforce
Spain
After a record 2016, Spain's fleet market in 2017 was the only market from the EU-5 to achieve positive growth for every single month.
According to Dataforce's Richard Worrow, the last time the Spanish true fleet market showed a monthly decline was January 2014.
Spain has enjoyed annual true fleet sales growth for the past four years and last year finished 8,000 units short of 1.3 million registrations, the best market performance for a decade.
Renault was ranked as the most popular true fleet manufacturer, taking over from Volkswagen, while Peugeot maintained third place.
Diesel continued to dominate the true fleet market in Spain, with 74.2% market share, although this was down from 81.6% in 2016. Buyers mainly shifted to petrol, which accounted for 19.1% of the market, while alternative fuels gained further ground at 6.7%.
UK
The true fleet market in the UK followed the overall car market, with a 5.8% fall in registrations, with Ford ranked the largest supplier, ahead of Vauxhall, followed by Volkswagen and Mercedes-Benz.
The growth of Mercedes-Benz was driven by new models such as the GLC and all-new E-Class.
Diesel engines accounted for just over half the market, with buyers shifting increasingly to petrol and alternative fuels.
Benjamin Kibies, from Dataforce, said there were 13 models where hybrid was the most popular choice, even though standard internal combustion engine options were available.
This includes market-leading hybrid providers, such as Toyota and Mitsubishi, but its research also showed most Porsche Panamera or Cayenne customers chose a plug-in hybrid variant.
• Dataforce provides fleet market data and automotive intelligence solutions throughout Europe. The company, based in Frankfurt, Germany, also provides detailed information on sales opportunities for the automotive industry, together with a wide portfolio of information based on primary market research and consulting services.