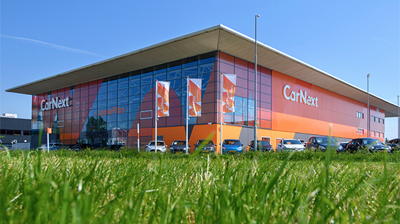 LeasePlan has opened its first CarNext.com used car store in the UK and an online platform to go with it to help sell ex-lease cars directly to consumers and SMEs.
Customers can choose to buy outright, finance or lease and CarNext.com will offer a used car subscription service in the future too.
This used car subscription service will offer a fixed all-inclusive monthly payment where customers just add fuel.
The new business has been in the works since November last year when LeasePlan's global chief executive Tex Gunning said it would be looking at new business models as part of its 'What's Next' strategy.
CarNext.com has its first UK showroom in Milton Keynes where there is space for 70 used cars.
Customers can choose to complete purchases online and have cars delivered, or they can pick up from a 'delivery store' or pick a car and test drive from the store.
The business will specialise in three-to-four year old lease stock and the focus will be on giving customers a lot more information about a vehicle's history.
Every car comes with a 12-month warranty, 14-day money back guarantee and fixed-pricing with 'no hidden costs'.
CarNext.com is now live in 16 countries, with 18 stores across Europe at the end of last year. LeasePlan said it has seen B2C sales increase by 50% in Q1 this year and has already sold 10,500 used cars through its CarNext.com concept.
CarNext.com is now live in Belgium, Czech Republic, France, Greece, Finland, the Netherlands, Poland, Portugal, Spain, Sweden, Turkey and the UK.
The next markets planned for launch are Denmark, Germany and Slovakia.
LeasePlan believes CarNext.com could tap into a potential market worth €65 billion across Europe and it will be expanding its CarNext.com stores to 50 across Europe in the medium-term.
LeasePlan has a stock of 250,000 ex-lease vehicles that are returned each year across Europe and this will form the basis of group stock for CarNext.com.
Ewout van Jarwaarde, CarNext.com managing director, said: "When customers buy, lease or finance a used car, they are at a massive knowledge disadvantage.
"It takes a lot of research to know what's happened in a car's past life or what it's worth today. The CarNext.com model uses data to address this, to put drivers in charge and bring trust and transparency back to the used car market. At CarNext.com we don't sell, we help you get your next car."
Customers select their car online at CarNext.com, where they can view the vehicle's ownership and maintenance history alongside 360 degree imagery and videos.
Matt Dyer,LeasePlan UK managing director, said: "These days customers expect not just a car, but any car, anytime, anywhere and this is exactly what CarNext.com will provide in the used car market.
"We're using the latest digital technologies to revolutionise customers' used car experience. Putting the customer at the heart of our operations, we believe that the quality of our cars and the transparency of our service will give customers the confidence and trust they can't get elsewhere."
In LeasePlan's What's Next strategy document the company said CarNext.com is already growing strongly.
It said: "In the financial year 2017, CarNext.com grew its penetration of B2C sales in Europe from 7% to a runrate of 15% at year-end 2017.
"In addition, used cars as a service (CaaS) was introduced at scale resulting in 3,200 used cars being leased in 2017.
"Long-term, we expect CarNext.com to be a multi-hundred million euro profit before tax opportunity for LeasePlan, as the megatrend towards CaaS takes place not just in the new car market, but also in the high-quality three-to-four-year-old used car market."