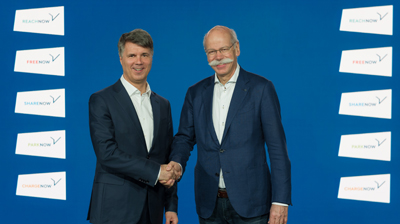 BMW and Daimler have made the first strategic announcements as part of their mobility services merger, with the launch of new brands and a €1 billion investment.
The companies aim to create a new global player in urban mobility for millions of customers by combining their mobility services for car sharing, ride hailing, parking, EV charging and transport apps.
The services will operate under five brands; Reach Now, for multimodal services; Charge Now, for EV charging; Free Now, for taxi ride hailing; Park Now, for parking; and Share Now, for car sharing.
Until the merger, the two companies operated separate car-sharing services which were some of the most popular in the world, with BMW providing DriveNow and Daimler car2go.
Their combined offering under Share Now is a free-floating car-sharing service with more than 4 million customers in total and 20,000 vehicles in 31 cities.
Olivier Reppert, former CEO of car2go, has been appointed CEO of Share Now.
There are more than 60 million active users of the combined mobility solutions provided across BMW and Daimler.
Dieter Zetsche (pictured right), chairman of the board of management of Daimler and head of Mercedes-Benz Cars, said: "Our mobility services have developed a strong customer base and we are now taking the next strategic step.
"We are pooling the strength and expertise of 14 successful brands and investing more than €1 billion to establish a new player in the fast-growing market for urban mobility.
"By creating an intelligent network of joint ventures, we will be able to shape current and future urban mobility and draw maximum benefit from the opportunities opened up by digitalisation, shared services and the increasing mobility needs of our customers."
He added that cooperation with other providers was a future option, including investments in startups and established players.
Harald Krüger, management board chairman of BMW (pictured left), said: "This service portfolio will be a key cornerstone in our strategy as a mobility provider. The cooperation is the perfect way for us to maximize our chances in a growing market, while sharing the investments."
The new joint venture will be based in Berlin, Germany, with up to 1,000 new jobs created as the business grows.
After an initial phase of investment and growth, managers said the new joint venture group will offer "attractive profitability", which will be crucial to its success.
The companies plan to eventually offer all-electric, autonomous fleets that are available on demand, charge and park themselves, and connect with other modes of transport beyond road and rail.
BMW and Daimler mobility services
Share Now - a free-floating car-sharing service that allows customers to rent and pay for vehicles by smartphone. More than 4 million customers currently use the fleet's 20,000 vehicles in 31 cities around the world.
Reach Now - app-based service offering more than 6.7 million users direct access to a range of mobility solutions through a single platform. Reach Now apps will offer a range of options for getting from A to B, allowing users to book and pay directly for public transport and various other mobility options, such as car sharing, ride hailing and bike rentals.
Charge Now - comprehensive charging network with more than 100,000 charge points across 25 countries. Its white-label solutions help manufacturers and fleet operators to introduce electric vehicle strategies.
Park Now - digital parking service offers users the best parking solutions at a glance, allowing them to reserve parking and manage parking times, with ticketless entry and exit in garages and cashless payment of fees. Drivers searching for parking spaces currently account for an estimated 30% of traffic on urban roads.
Free Now - access to taxis, private chauffeurs with rental vehicles, and e-scooters through an app-based service. Already serves more than 21 million customers with access to 250,000 drivers.
Read more - Planning a successful route to delivering global mobility services