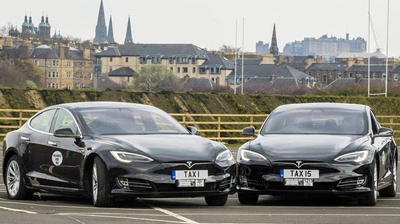 AF50 UK finance company Simply is predicting asset finance will play a key role in the future growth of zero-emission vehicle use after securing its latest deal.
The company has completed a £130,000 deal to support an Edinburgh taxi company's investment in two new Tesla Model X cars to add to its green fleet of executive private hire vehicles.
Capital Cars is one of the largest private hire taxi companies in Scotland's capital and now operates four Teslas, which provide important proof that zero-emission vehicles are a viable alternative to internal combustion engines.
The investment supports the UK government's Road to Zero strategy, which aims for all new cars and vans to be effectively zero emission by 2040.
Ross Pickburn, regional sales manager at Simply, said: "Capital Cars is one of the first taxi companies in Edinburgh to start replacing its fleet with electric vehicles – which not only helps the environment but also brings down the cost per mile of journeys. It's a pleasure to deal with such a progressive and green company."
Business fleets throughout the country are investing in zero emission vehicles as they become more confident that the technology is reliable and delivers efficiencies, such as substantially lower fuel costs.
In Cornwall, C&C Taxis has invested in an all-electric vehicle strategy, covering hundreds of thousands of miles in its Nissan Leaf EVs with no breakdowns and minimal servicing costs.
One of its original cars covered 174,000 miles with no breakdowns during its working life with the company, which included more than 10,000 recharges.
In London, award-winning delivery company Gnewt has been pioneering an all-electric commercial vehicle fleet and has delivered more than one million parcels in the past decade using its 70 zero emission vehicles.
There is also growing international confidence that EVs are suitable for intensive business use. In the US, Tesloop launched an electric car mobility service four years ago, offering ride shares between Las Vegas and Los Angeles. The fleet covered 2.5 million EV miles across routes throughout Southern California, with vehicles covering 300,000-500,000 emission-free miles before replacement.
According to the latest data from the UK's Society of Motor Manufacturers and Traders, demand for battery electric cars leapt 70% in the year to the end of July, with a total of 14,246 vehicles sold, accounting for 1% of the market.
Although this is a fraction of the current market for diesel and petrol cars, there are only a handful of companies providing EVs. This will change in the next two years, when manufacturers launch several new models.
The number of zero-emission car models on sale in Europe is forecast to more than triple to more than 200 by 2021 as manufacturers accelerate production.
There will be 92 battery electric and 118 plug-in hybrid cars on sale by 2021, with experts predicting that 22% of all vehicles produced by 2025 will be capable of zero-emission driving, according to a new report from Transport & Environment (T&E).
Pickburn added: "Asset finance is going to be a vital component in the growth of the electric vehicle market. At Simply, we have funded a wide range of electric and vehicles for the taxi sector and, over the last 12 months, a lot more customers have bought Teslas, Nissan Leafs and Hyundai Ioniqs to use as taxis and private hire cars in order to reduce their carbon footprint.
"The mileage range now on offer with these manufacturers is rapidly increasing – and this means that businesses are becoming keener to replace company petrol and diesel vehicles. We're eager to support this positive development and, with the availability of funds Simply and its partners have to offer to SMEs, I believe more businesses will be buying electric in the future."