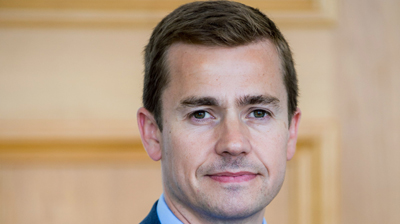 Companies around the globe have committed to switch 2.5 million fleet vehicles to zero-emission models within a decade under an international agreement.
Among the latest companies making the EV100 commitment are some of the world's leading leasing companies.
Lex Autolease, the UK's biggest leasing company, which operates 350,000 vehicles on behalf of customers, and Zenith, which has a fleet of 140,000 vehicles, are the latest to sign.
They are also converting their own company vehicle fleets to zero emissions, adding tens of thousands more cars to the total.
Lex Autolease already operates the UK's largest ultra-low emission fleet, with more than 21,000 vehicles; one in 16 EVs on the UK's roads is a Lex Autolease vehicle.
Richard Jones (pictured), managing director of motor finance and leasing at Lloyds Banking Group, said: "Our business customers have an important role to play in meeting the government's ambitious climate change targets and we're uniquely placed to help them make the switch, providing insight and expertise for businesses with fleets of all sizes."
Tim Buchan, chief executive officer of Zenith, said its internal fleet will have converted to electric vehicles within five years.
He added: "Zenith's ambition is to become synonymous with electric vehicles. Zenith has restructured its own car policy to support all employees in gaining access and making the transition to an electric vehicle."
In 2017, LeasePlan, one of the world's biggest leasing companies, with around 1.9 million vehicles, became the first in the industry to sign the EV100 commitment.
The EV100 currently has 67 members in 80 markets, whose commitments extend to requiring their own suppliers to introduce sustainable fleets, for example by requiring taxi companies to only use zero emission vehicles when transporting their employees.
By 2030, EV100 signatories will save tailpipe emissions equivalent to 42 million metric tons of CO2.
The Climate Group, which runs the global EV100 initiative, recently published a progress report that reveals around 80,000 electric vehicles are already deployed by members along with 10,000 charging points.
Nearly half of members power them using electricity from renewable sources, such as wind and solar. A further 3,200 charging points are planned.
In addition to Lex Autolease and Zenith, companies from France, Denmark and the US have become the latest EV100 members.
Schneider Electric works on the digital transformation of energy management and automation and will convert its fleet of 14,000 vehicles in more than 50 countries.
Leonid Mukhamedov, executive committee member, chief strategy officer, Schneider Electric, said: "We believe electricity is the future of mobility and we want to demonstrate that a rapid scale-up of EVs is within reach in 10 years."
San Francisco-based shared micromobility company Lime will update its 300-vehicle maintenance fleet to electric vehicles by 2030 and charge them with renewable electricity.
Engineering company Danfoss Group will electrify its entire fleet of 2,300 leased or owned company vehicles within 10 years and install charging points at all its factories.
Kim Fausing, president and chief executive officer of Danfoss Group, said: "We believe in electrification as part of our business strategy and successfully produce solutions for an electrified transport sector, both to sea and land. Now we also do our part by committing to electrify our own car fleet as the infrastructure becomes available."
Overall, the fleet commitments of EV100 members are valued at more than $65 billion.
In addition to the Climate Group members, a range of other businesses are already signing orders for tens of thousands of EVs in a sign of rapidly changing attitudes among fleet customers.
Nissan and Uber have signed a deal for the Japanese manufacturer to provide the ride-hailing service with 2,000 UK-built electric Leaf models in the UK.
Parcel delivery giant UPS has also announced that it has completed a minority investment in UK-based electric vehicle manufacturer Arrival, which includes an order for 10,000 purpose-built electric vans.
Jaguar Land Rover UK announced recently it was working with Northumbria Healthcare NHS Foundation Trust to provide a fleet of 700 Jaguar I-Pace electric vehicles for public sector staff across the country.
The UK government has announced it aims to ban the sale of new petrol and diesel cars, including hybrids, by 2035 under a revised strategy to tackle climate change that implements green policies five years earlier than originally planned.
Governments around the globe have announced plans to ban the sale of petrol and diesel-only vehicles within 20 years, while many local authorities are already taking action to restrict urban access to all vehicles unless they are low-emission models.
EV100 2019 member update
| Company | Headquarters | Year joined | EV commitment (vehicles) | % converted |
| --- | --- | --- | --- | --- |
| AEON Mall | Japan | 2017 | | |
| Aéroports de Montréal | Canada | 2019 | 79 | 14% |
| Air New Zealand | New Zealand | 2018 | 139 | 44% |
| Airport Authority Hong Kong (AAHK) | Hong Kong | 2019 | 3,340 | 22% |
| APCOA Parking (UK) Ltd | United Kingdom | 2019 | 267 | 0% |
| ASKUL | Japan | 2017 | 287 | 4% |
| AstraZeneca | United Kingdom | 2019 | 16,338 | 3% |
| Austrian Post | Austria | 2019 | 8,493 | 13% |
| Baidu | China | 2017 | 46 | 100% |
| Bank of America | USA | 2018 | | |
| Bounce | India | 2019 | 22,000 | 9% |
| BSES Rajdhani Power | India | 2019 | 176 | 5% |
| BSES Yamuna Powe | India | 2018 | 18 | 44% |
| BT Group | UK | 2018 | 29,345 | 1% |
| Centrica | UK | 2019 | 12,673 | 4% |
| Christchurch Airport | New Zealand | 2018 | 420 | 55% |
| Clif Bar & Company | USA | 2018 | 42 | 0% |
| CLP Group | Hong Kong | 2019 | 931 | 10% |
| Danfoss | Denmark | 2019 | 2,229 | 3% |
| Delta Electronics | Taiwan | 2018 | 145 | 20% |
| Deutsche Post DHL | Germany | 2017 | 85,573 | 26% |
| E.ON | Germany | 2019 | | |
| EDF Group | France | 2017 | 40,047 | 9% |
| EDP - Energias De Portugal | Portugal | 2019 | 3,403 | 6% |
| Genentech | USA | 2019 | 1,368 | 9% |
| Genesis Energy | New Zealand | 2018 | 132 | 33% |
| Heathrow Airport | UK | 2017 | 316 | 30% |
| HP Inc. | USA | 2018 | n/a | n/a |
| Iberdrola | Spain | 2019 | 3,059 | 4% |
| Ingka Group | Netherlands | 2017 | 12,537 | 7% |
| Intu | UK | 2019 | 27 | 11% |
| John Sisk & Son | Ireland | 2019 | 484 | 1% |
| Landsec | UK | 2019 | | |
| LeasePlan* | Netherlands | 2017 | 2,507 | 16% |
| Mawdsleys | UK | 2019 | 75 | 3% |
| Mercury | New Zealand | 2017 | 117 | 72% |
| Meridian Energy | New Zealand | 2019 | 112 | 36% |
| METRO AG | Germany | 2017 | | |
| Mitie | UK | 2019 | 5,366 | 5% |
| Nippon Telegraph and Telephone Corporation (NTT) | Japan | 2018 | 10,856 | 0% |
| Novo Nordisk | Denmark | 2019 | 8,000 | 1% |
| Ontario Power Generation | Canada | 2019 | 552 | 7% |
| Ørsted | Denmark | 2019 | 331 | 21% |
| Pacific Gas & Electric Company | USA | 2017 | | |
| Port Authority of New York & New Jersey | USA | 2018 | 1,413 | 20% |
| Post CH Ltd (Swiss Post) | Switzerland | 2019 | 10,736 | 55% |
| RBS | UK | 2018 | 268 | 1% |
| Royal HaskoningDHV | Netherlands | 2017 | 603 | 42% |
| Schenker AG | Germany | 2019 | 244 | 5% |
| Shuttl | India | 2019 | 1,164 | 1% |
| Signify | Netherlands | 2018 | 2,462 | 2% |
| SSE plc' | UK | 2019 | 3,912 | 4% |
| State Bank of India | India | 2018 | 1,791 | 0% |
| Takashimaya Company | Japan | 2019 | 435 | 0% |
| Taxelco | Canada | 2019 | 1,500 | 0% |
| Toyko Electric Power Company Holdings (TEPCO) | Japan | 2019 | 4,400 | 10% |
| Unilever | UK | 2017 | 11771 | 3% |
| Vattenfall | Sweden | 2017 | 4,451 | 15% |
| VMVVare | USA | 2019 | 5 | 0% |
| Wipro Limited | India | 2018 | 2,000 | 2% |
* figures don't include 1.9 million customer fleet commitment
Source: EV100