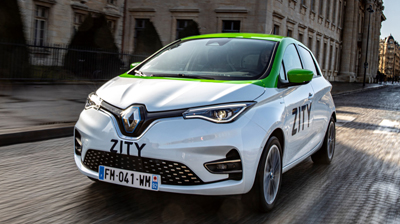 In an attempt to expand its presence in the car-sharing sector, Renault has announced its decision to launch a service in Paris later this month, in partnership with Spanish contractor, Ferrovial.
Since its conception in Madrid back in 2017, Renault's car-sharing service – named Zity – has built a fleet of 658 electric vehicles (EVs) and has so far gained 317,000 users, who have covered 1 million kilometres.
Zity is expected to make 500 Renault Zoe EVs available to users through a mobile app, much like existing car-sharing services, whereby users can locate the nearest vehicle, reserve it, and unlock it when they're ready to go.
The automaker claims it will not charge a subscription fee, instead making users pay only for the use of the vehicle per minute, and in fixed-time blocks of four hours, eight hours, and 24 hours.
According to Renault, users will also be able to purchase 'economy packs' of prepaid time credit.
Leveraging the potential benefits of technology, Renault will be able to remotely monitor the charge level in each battery pack to ensure users get into a fully-charged car, removing the car from service for recharging when necessary. Each vehicle will also be equipped with GPS, cruise control, reversing cameras and proximity sensors to reduce the likelihood of an accident.
Paris has been the centre of many attempts at car-sharing services over the past few years, for example Renault's current Moov'in Paris was launched with Ada in 2018, but is now set to be replaced by this new model.
Autolib was another attempt at car sharing that made use of its own dedicated vehicle, the Bollorė Bluecar EV. This saw relative success, with vehicles being rented as much as 5,000 times per week in 2012, but it shut down in 2018.
Nonetheless, Renault claims that there still lies a demand for car sharing on the streets of Paris, with around 20% of Parisians making use of the services.