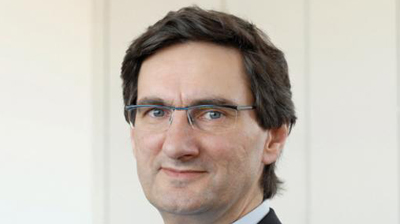 Societe Generale Equipment Finance (SGEF) has confirmed its leadership position as the largest company in the annual Asset Finance Europe 50. Jochen Jehmlich, the company's chief executive officer, explains how this position has been achieved through a focus on the customer experience, embracing technological transformation and financing the 'real economy'.
SGEF operates across 4 sectors – technology, transport, industrial, healthcare & green energy – in more than 40 countries worldwide and 20 across Europe with a significant market share in many of these countries.
One of our strengths is our global coverage, combined with local expertise and market knowledge that enable us to set up international programs with global vendor partners as well as accompanying local customers to finance the real economy.
Across Europe, landscape, trends and client needs vary.
In Germany for instance, where we operate under GEFA brand, the leasing market and the loan and hire purchase market have developed positively within the last 12 months.
In Scandinavia, we observed a highly competitive market situation due to much liquidity in the market combined with low interest rates.
In Spain, a continuing growth with increased volumes compared to 2018 has been observed, partly driven by investments in transport, machinery and industry as well as aviation and shipping.
Looking at our portfolio in Belgium, we see that the main drivers of leasing growth in the industrial and transport segment are SMEs in need of replacement equipment or with a positive believe in growth for the future.
In the Netherlands, industry and transport performed better than IT, although the whole market is very healthy, with a strong increase in volumes and a higher penetration rate of leasing vs traditional financing.
In the UK, we reinforced our teams in transport and industrial equipment to reflect our clients' activity.
Across all countries, we are actively working on innovative and flexible solutions. This means, for instance, creating solutions that give end users access to assets without necessarily taking ownership of the asset at any time during its useful life.
Such solutions need close cooperation between SGEF and its vendor partners and finding the right risk reward structures to provide added value solutions to the vendors.
Beyond our expertise in our historical markets, we have committed this year to strengthening sustainable finance solutions to our clients from economic, social and environmental perspectives.
We believe that new financing solutions are required to support the shift to a more sustainable environment and new approaches such as the circular economy.
In transportation, we pro-actively focused on climate change mitigation by supporting projects with a shift to more low-carbon, sustainable models for public transportation by offering finance for municipalities for electric bikes and buses.
In agriculture, we established in Northern Europe a replacement program to exchange agricultural machinery for zero emission equivalents.
In technology, we partnered with a world leading supplier of solutions for 'smart cities', supporting them in the financing of technology solutions aimed at global problem solving and advancing social and environmental benefits.
We also closed a partnership with a European leader in lighting solutions to offer 'Lighting-as-a-Service' and supported 'smart cities' by combining energy-efficient LED street lights with embedded wireless connectivity.
Beyond its commitment toward international vendors, SGEF has been supporting the real economy in Europe by investing in SMEs with the European Investment Bank (EIB).
For example, in Poland, we signed a €100 million agreement, and in Northern Europe we renewed our partnership and signed an additional €150 million credit line.

Embracing technological transformation
The technological revolution and emergence of new players disrupting all sectors of the economy have pushed all of us into action, but the European landscape is very fragmented, the impact of disruption and the speed vary, and the business-to-business digital approach is quite different from consumer business.
As a lessor supporting vendors, manufacturers and SME's in their activities, we consider digital as an enabler.
Before embracing technology transformation, we first identified and ranked the objectives of digitalisation: deliver added value to customers, reduce cost, better comply with regulation and increase revenues.
As part of our constant efforts to bring innovative and creative products and processes to our partners and clients, we organised in Berlin our first Hackathon in 2019.
We brought together more than 150 business managers and software developers, who worked through the weekend investigating the latest technologies to support our developments.
I believe that, in the future, the leasing sector will provide its customers with a personalised experience combining the best of digital technology and human expertise.
This hackathon was the launch event for our Digital Factory in Berlin, with an objective to develop new digital and innovative tools for all the SGEF entities across Europe to improve the client experience.
Enhancing customer experience
Providing a personalised and excellent customer experience to our clients depends on our ability to provide digital services, on our strong market expertise and global coverage, and also on human commitment.
Relationships, cooperation with partners and client-centricity are in our mindset and corporate values, which we share with our 3,200 colleagues around all our locations to build an inspiring vision for SGEF.
For our clients and partners, in 2020 we want to be a leading provider of innovative and flexible solutions; a digital and customer-centric organisation committed to delivering an excellent experience across countries, and a great company to work with, driven by simplicity, agility and sustainability.
Our motto is: SGEF, a solution provider beyond equipment finance.
* Jochen Jehmlich is chief executive officer of Societe Generale Equipment Finance. It is part of Societe Generale, one of the leading European financial services groups, with more than 149,000 members of staff in 67 countries. Societe Generale also owns global vehicle leasing specialist ALD, which manages more than 1.6 million vehicles in 43 countries.
* This article first appeared in the annual Asset Finance Europe 50 report, which was exclusively published by Asset Finance International and Asset Finance Policy, in partnership with sponsors Alfa. Download your copy by clicking here.