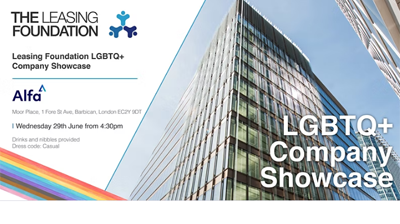 Celebrate Pride Month by joining The Leasing Foundation and the Alfa Financial Software LGBTQ+ Community at the Alfa offices on June 29 for the first in a series of LGBTQ+ Company Showcase events. These events will allow LGBTQ+ employee networks from across the leasing industry to showcase their efforts and discuss their plans for the future while providing an opportunity for LGBTQ+ people and allies to network.
Location: Moor Place, 1 Fore St Ave, Barbican, London, EC2Y 9DT
Nearest Tube Station: Moorgate -
Date: Wednesday, June 29th -
Time: From 4:30 pm -
Presentation: 5:00 - 5:30pm
From 5:30 pm, the Alfa LGBTQ+ Community showcase will be followed by 'Pimms my Pride', Alfa's annual Pride celebration with Pimm's, soft drinks, pizza and games!
If you have any questions, please email hello@leasingfoundation.org
Please register at EventBrite here