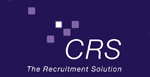 Our client is a leading provider of vehicle rentals and Asset Finance, with a customer base that spans across the whole of the United Kingdom.
They currently partner with some of the top manufacturers and finance providers in the industry.
Customer service is at the core of their operation and culture and as a result, you will be responsible for developing long-term relationships with customers, as well as pro-actively seeking new opportunities.
My client is looking for a motivated, self-starter to join their experienced and knowledgeable team. Motor finance or general asset finance experience desirable.
Contact: For more information on this role, please contact Penny Bowring pbowring@crsltd.info