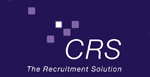 £80 - £100k (plus package).
Are you an outstanding performer and looking to work for one of the most globally recognised banks in the market?
Based in Scotland?
This opportunity will see you work with one of the most capable brands with an industry leading reputation.
Candidates are too have an existing network in the mid-market space.
Originating deals for businesses with up to £350m in turnover.
Contact: For more info please contact Oliver Hemlin ohemlin@crsltd.info